The annual MCC Nebraska Mennonite Relief Sale sale seems to go off smoothly every year, but much work goes on behind the scenes to make it all happen. The noon meal on Saturday, April 1, features verenika, a Mennonite favorite specialty, served either fried or boiled with a ham-based gravy. Verenika are half-moon-shaped dough pockets filled with a cottage cheese mixture and pretty labor-intensive to make, let alone the needed 3,500 for this event!
This past Friday morning at Bethesda Mennonite Church in Henderson, about 25-30 volunteers gathered in the kitchen and fellowship hall to make and assemble thousands of verenika. It's no easy task and takes plenty of hands working in an assembly line fashion. 
The first step is making large amounts of dough needed for the pockets that will hold the cottage cheese mixture. Next, a large dough rolling machine rolls out large flat pieces of dough that will be cut in circles at the next station.
Dollops of the cheese mix are dropped in the center of the dough circle, ready to be folded over, and the edges carefully pinched. According to committee member Mike Wall, the cottage cheese mixture was made the night before to speed up their production on Friday. 
A new trick being used by a few volunteers was using a light spray of water to wet the dough pocket making it easier to close up. Making verenika definitely takes some skill and experience to work with thin dough.
The large trays of freshly made verenika are taken to the Henderson Food Mart and frozen in their freezers until they take them to Aurora Saturday morning. Those from Bethesda on the committee are Tammy (Justin) Ott, Tami Peters, and Mike Wall. They are also responsible for frying and boiling the verenika on Saturday morning before the dinner is served. 
This is a great event with more tasty meals besides the verenika dinner, including the exciting auction where you can bid on handmade quilts and plenty of arts and crafts items. Visit the Nebraska Mennonite Relief Sale website for more information about this upcoming event to be held March 31 – April 1 at the Hamilton County Fairgrounds in Aurora.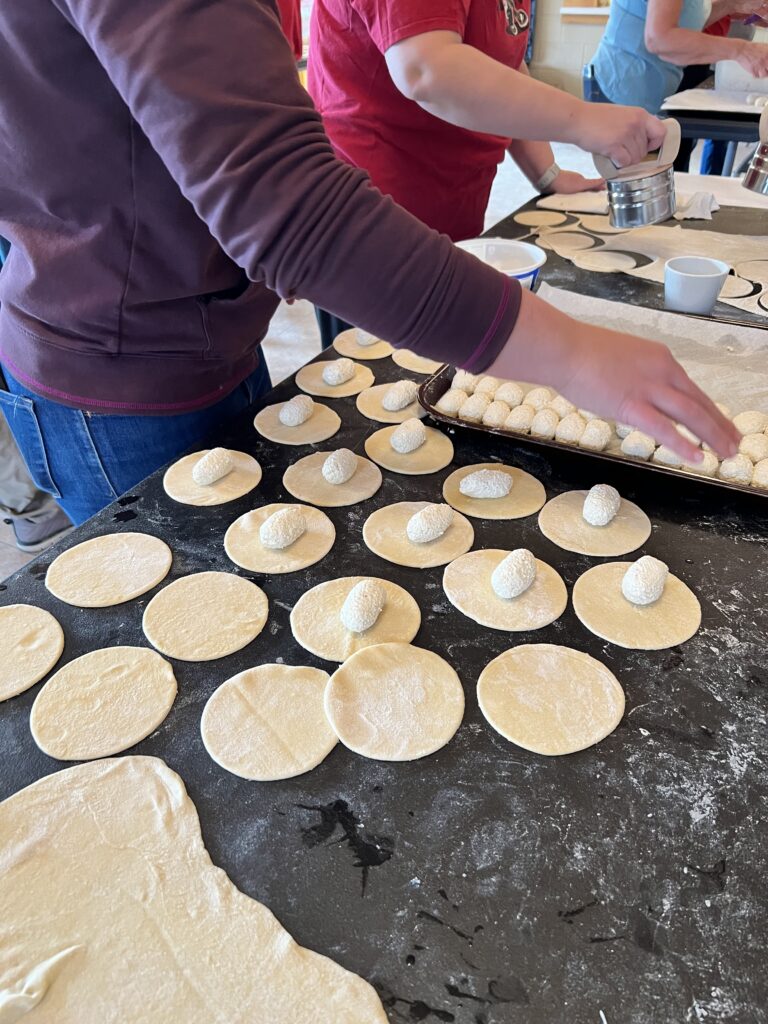 Comments
comments
Powered by Facebook Comments