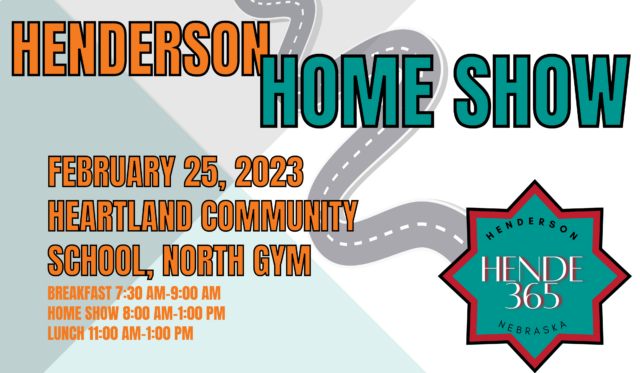 Get ready to mark your calendars and set your alarms because the 2023 Henderson Home Show is just around the corner! On February 25th, starting at 8:00 AM, we invite you to join us at the north gym of Heartland Community Schools for a day filled with fun, entertainment, and community spirit!
The Henderson Health Care Foundation will host a free-will donation pancake breakfast from 7:30 AM-9:00 AM to kick off the festivities. So come hungry and support a great cause!
And that's not all; the class of 2024 is also getting in on the action by serving up some delicious burrito bowls and loaded nachos from 11:00 AM- 1:00 PM. By supporting their fundraiser, you'll satisfy your cravings and contribute to this active class.
But wait, there's more! This year's line-up of speakers is sure to blow you away! Join us as we welcome Great Plains Nursery, AAR Corp, and The Heartland Community Schools Robotics team to share their expertise and knowledge and show us the cool designs of our Robo-friends.
And if that's not enough to get you excited, the list of vendors registered for the home show continues to grow! With crafts, books, and so much more, there's bound to be something for everyone!
Join us on February 25th at Heartland Community Schools for a day filled with exciting activities, tasty snacks, and the chance to support some fantastic local businesses. If you have any questions or want to register a booth, please don't hesitate to contact the Henderson Chambers at 402-723-4228 or hchamber@mainstaycomm.net.
We can't wait to see you there!

Current Vendors
Balabans
Bethesda Preschool
Bristol Windows
Cornerstone Bank
Countryside Lawn
Critel Enterprises, LLC
Easy Lawn
Foundation
Girls Scout Cookies
Good Will Donation Truck
Grace Bible Institute
Henderson Health Care Services
Henderson Police
Henderson State Bank
Heritage Park
Hiebner Body Shop
Ivy And Main
LeafFilter Gutter Protection
Lindseys Cleaning
Living Hope Youth
LP Hvac
Mainstay Communications
Mom and Daughter Homemade Crafts
Old Glory Roofing
Paper Pie
Ruby Ribbon
Teckmeyer Financial
Triple C Coffee
Water Treatment Pros
York Heating and Air