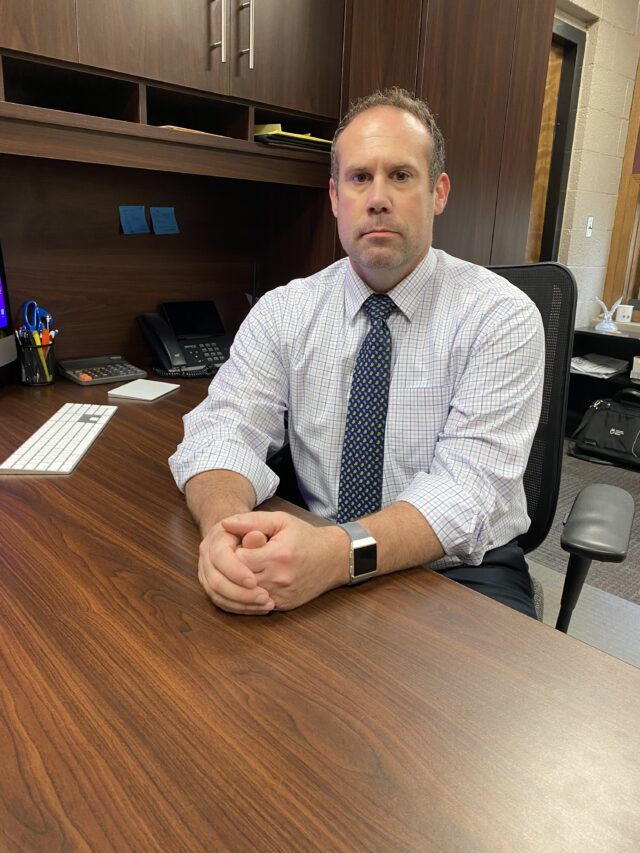 Heartland Community Schools' new Superintendent, Jeremy Klein, says he is excited to start the new year, meet the staff and students, and meet more community members.
Before joining our team at Heartland, Jeremy was the former Logan View Superintendent in Hooper, Nebraska. Jeremy received his bachelor's degree at UNK, his Master's in Education at UNO, and his Education Specialist from UNK.
Before becoming a superintendent, Jeremy spent his time being a 7-12 math teacher and coach. "I've always enjoyed working with kids and helping them succeed. Alongside coaching, I've worked with many great kids both in and outside the classroom."
There were lots of things that attracted Jeremy to want to be a part of Heartland Community Schools.
"Many things attracted me to Heartland Community schools, one of the biggest reasons was simply the school district and communities within. It's easy to want to be a part of something so successful with great people and a safe school."
"Heartland has a long track record of stability, you see that in the teaching staff, school board, and community members. The school has a lot of consistency which is not easy to find, it certainly makes the school/community an exciting place to be."
Jeremy loves how supportive the community of Henderson is; with many new opportunities coming, he's excited to be here.
"The community is very supportive to stay thriving in the future, with the support of the bond issue going through, along with great students, Heartland is a great place to be, a great place to live, and a great place for your kids to come to learn."
Jeremy is looking forward to so much this year that it's hard to narrow it down to just one. "I'm looking forward to getting to know people, our staff, and kids. I'm also looking forward to the excitement and challenges with the building projects."
With Covid being one of the biggest challenges the past few years, this year is promising to be normal.
"This school year looks to be the most normal year since Covid, so many of us are looking forward to that possibility."
Motivation comes easy for Jeremy because he truly enjoys what he does and the challenges that come with the job.
"What motivates me is the sense of duty and responsibility; there are so many people who depend on me to ensure the job is done right. For me, the students always come first, including staff and our parents. There's a duty that comes along with what we do and time when I need motivation that for sure helps."
Becoming a superintendent wasn't always on the goal list. Early on, he knew he wanted to teach and coach.
"The idea of becoming a school superintendent was not always a goal but having the opportunity to lead a larger team and help people was interesting. Becoming a superintendent was a goal that came to be throughout my career."
If you see Jeremy Klein around, welcome him to the community! We wish Jeremy a great first year as the new Superintendent of Heartland Community Schools!
Comments
comments
Powered by Facebook Comments