Heartland's 2019-2020 school year concluded this past week. As you know, Heartland has been using Distance Teaching/Learning since school was let out due to Covid-19 on March 17.
This article was written while school was still in session.
For the final week, I caught caught up via phone with Mrs. Reinke, the Elementary Principal at Heartland. Mrs. Reinke and the other Heartland administrators have been filling their days with Zoom meetings, various student-check ins, paperwork, and keeping things going "behind the scenes."
While Mrs. Reinke definitely misses having students and teachers in the school building, she has enjoyed continuing to build relationships through the available technology. "My number one priority is taking care of people and making sure their needs are met. This is Heartland's priority as well," states Mrs. Reinke. In order to do this, Mrs. Reinke is available day and night for support, guidance, or idea-sharing. She has responded to many an email, text, or phone call with parents to help them figure out how to structure their kids' day or problem-solve when needed. She also makes deliveries of materials to make sure students have what they need. She also spends A LOT of time on Zoom.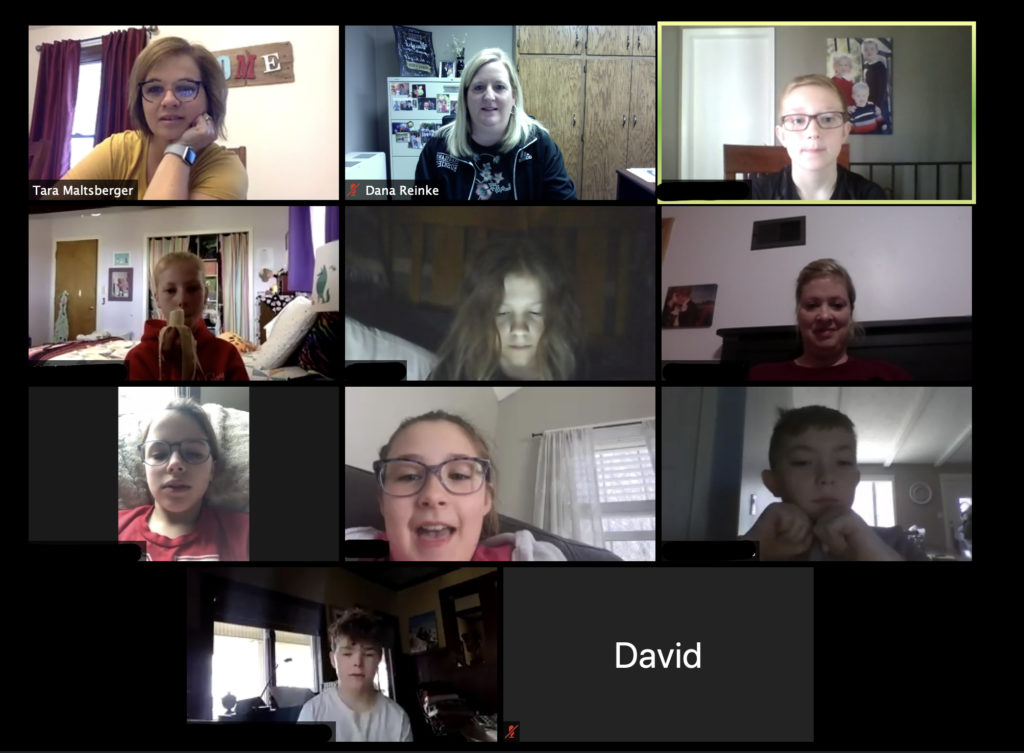 Heartland's Pre-K through 12th grade teachers have been split into 8 teams. These teams meet weekly with Mrs. Reinke and/or Mr. Carr to check in, share ideas, or problem-solve. "It's not the same as being able to see teachers every day, and I miss that," states Reinke, "But it's so helpful to have the technology available to be able to communicate and still see one another." She also enjoys getting in on classroom Zooms as much as possible. "I like to just check in with the kids and say hello!"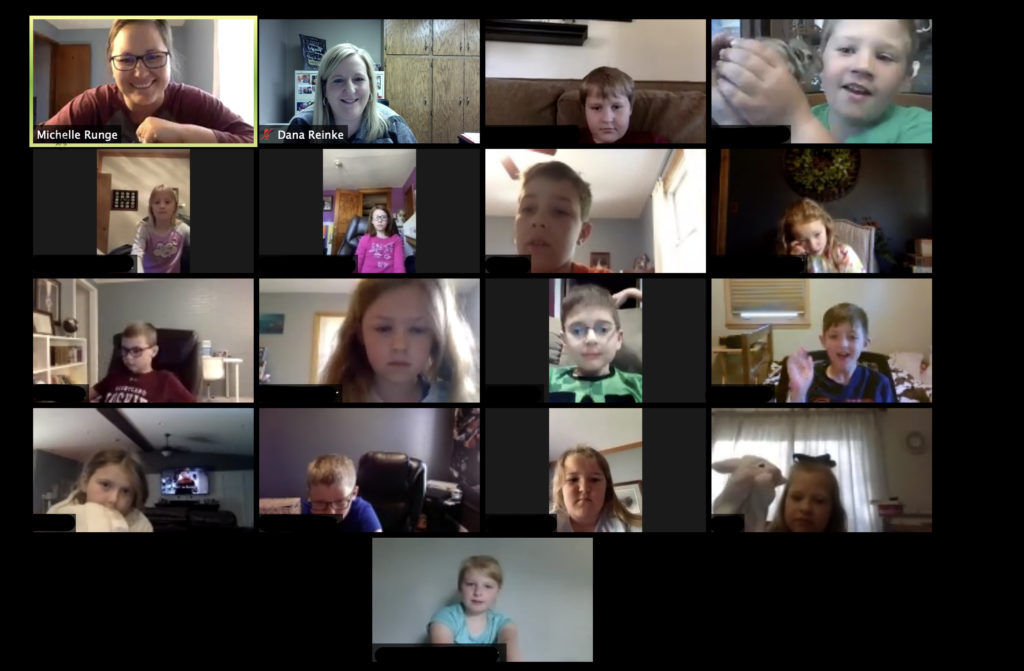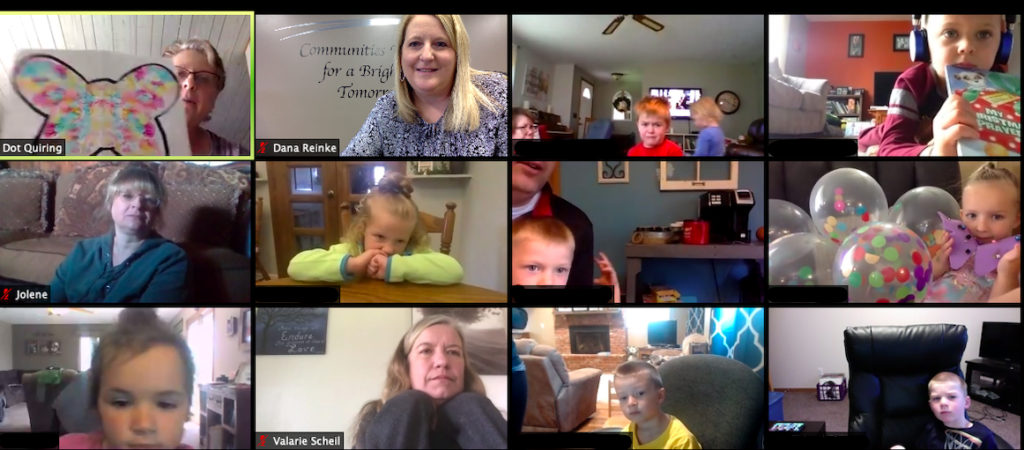 Other Zoom meetings include talking with other principals in the local ESU (Education Service Unit). They have done quite a bit of networking with each other to share technology resources, ideas for graduation ceremonies, and other activities that would normally take place in the spring. They also spend extra time brainstorming with Special Education Staff finding the best ways to serve students with special needs during this unique time of distance teaching/learning. ESU's also provide ideas for learning activities that teachers have access to.
Each week teachers send in papers to be printed and put into packets of learning and enrichment materials for each elementary student. Mrs. Reinke gave a big shout-out to the para-educators for their extra work during this time. Some come in to make copies and stuff folders and help with extra tasks. The cooks have also been busy making up lunch and breakfast packets for students. Heartland has made free lunches and breakfast available to all families in the district during this time. For many teachers, Tuesdays are a highlight in their week. As families come to pick up food packs for the week, teachers have helped direct traffic and hand out food. They have been able to wave to their students and sometimes talk to them through an open vehicle window.
Mrs. Reinke has also used this time to construct a website she's been wanting to create for awhile now. It's a place to share information, resources and fun! Under the "Daily postings" tab, families can find juggling lessons, cooking lessons, earth day information, books read aloud by teachers and more.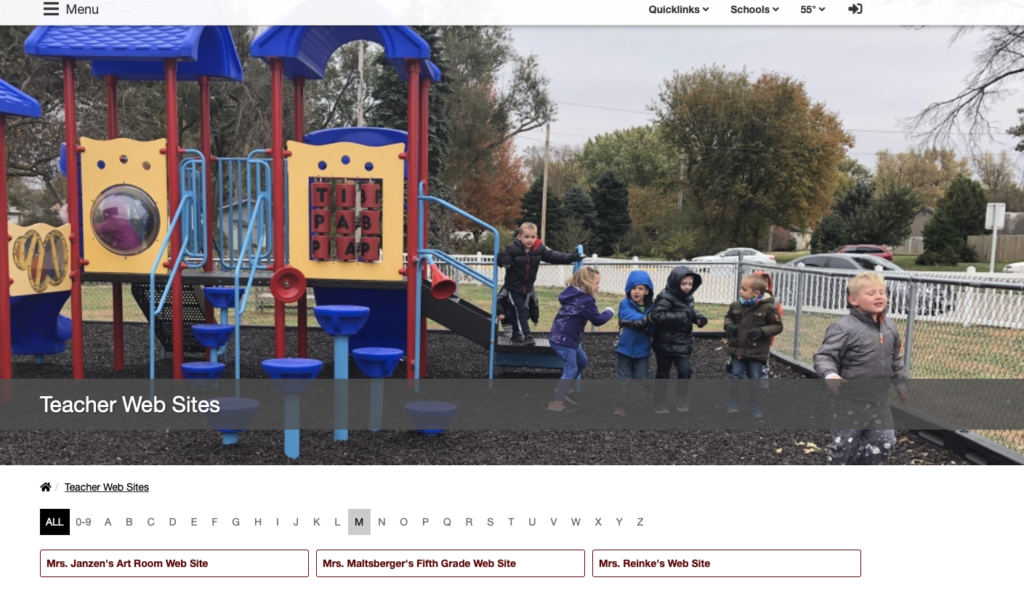 Even though times and situations are very different than normal, Mrs. Reinke had many good things to say about the Heartland Community. I leave you with her words:
"Heartland has Rock-Star Teachers and Staff! We teach because it's what we love. All teachers have really stepped up to the plate with what they are doing for our students. Some have had to learn more technology than they use normally, but they have all stayed flexible and been willing to learn. The Board of Education continues to be very supportive of the work that is taking place. This group has been instrumental in providing governance and making the necessary adjustments for us to continue to meet the needs our our students and families during these uncharted times. Our parents and guardians are are amazingly supportive. You continue to support our school and provide a safe environment in your homes allowing for enrichment learning to continue. We are blessed."  
Comments
comments
Powered by Facebook Comments