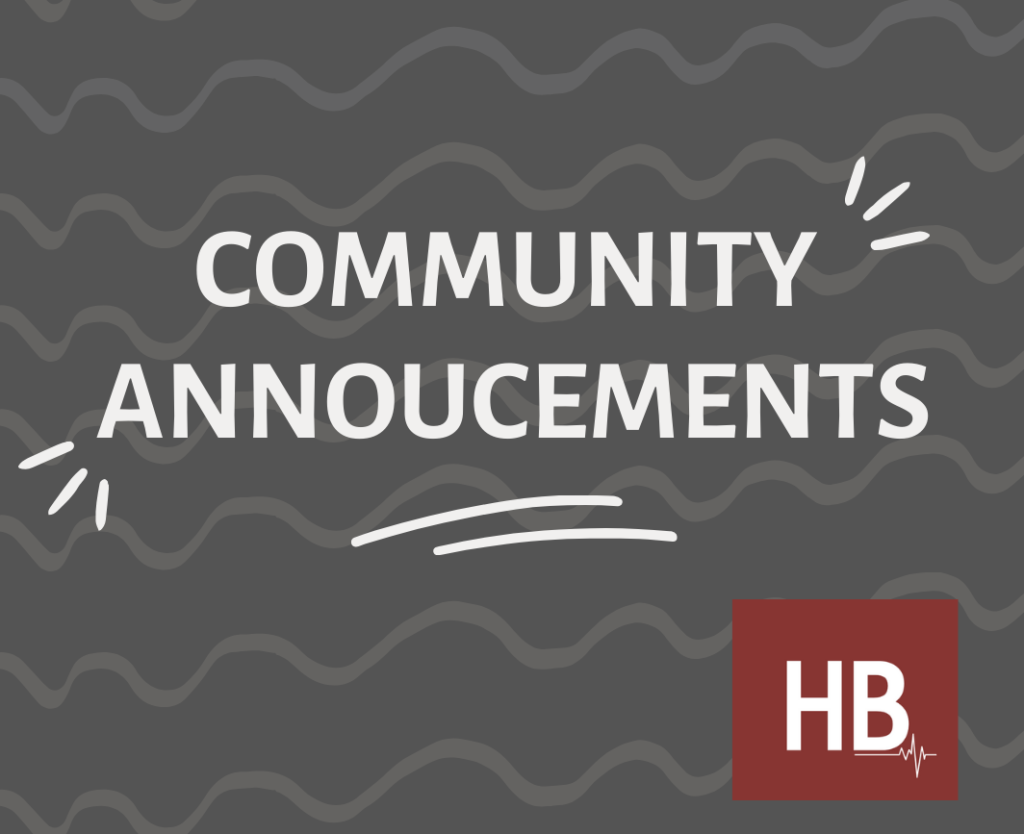 With the arrival of COVID-19 in Nebraska, there are many schedule changes and precautions that affect our communities.
Please be aware of these announcements, and contact Heartland Beat if you have any to share. We will continue to keep this up-to-date.
---
Henderson Health Care: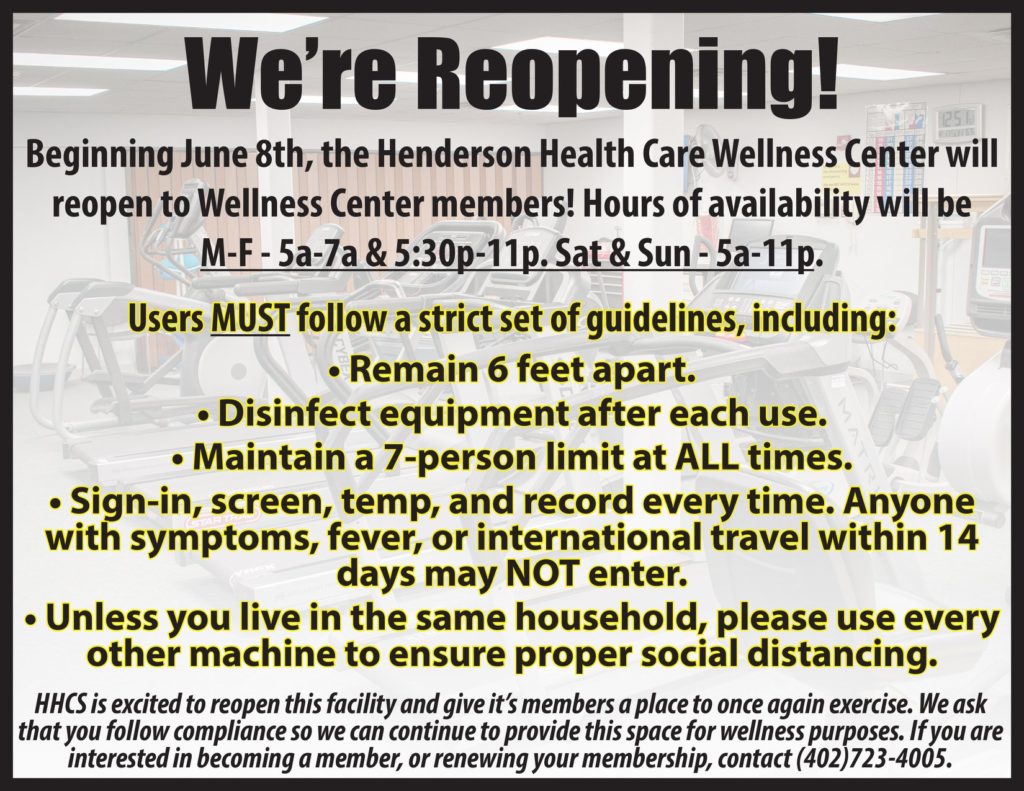 (April 23) Telehealth is Henderson Health Care's new and important tool in caring for our patients while keeping our staff safe as the COVID-19 pandemic continues to evolve. It's as simple as using your smartphone with a shared link to enable audio and video!
To schedule your Telehealth visit, please call Henderson Family Care at (402)723-4512 or Sutton Family Practice at (402)773-2130.

(April 2) Due to the rapid spread of the novel coronavirus (COVID-19) throughout the state and country, Henderson Health Care Services (HHCS) will be taking all necessary precautions to protect and maintain the health and safety of our patients/residents and staff.
HHCS will further restrict visitation by no longer allowing visitors of patients/residents in our facilities and clinics. A healthy, adult support person will be allowed in a few limited circumstances:
• A patient arriving at either emergency department (limited to one, if needed)
• Labor & Delivery (limited to one labor partner)
• Pediatric/Minor patient (19 years or younger, limited to one parent/guardian)
• A dependent adult needing special assistance (limited to one)
• Patient care partner needing teaching and instructions prior to discharge (as determined by patient's Discharge Planning Evaluation)
• Patient receiving end-of-life care (limited to one)
• Special circumstances (as identified by management, such as wheelchair dependent, altered mental status, critical decision making, etc.)
• Transportation in itself does not justify the need for visitation and will be restricted
• If a visitor is allowed, to maintain consistency and decrease the risk of exposure, the visitor will be the same visitor every encounter Upon designation, support persons will be screened upon each arrival for signs of illness by taking their temperature, answering screening questions, and are required to follow infection prevention procedures as instructed. If the support person fails the health screening, he/she will not be permitted. Visitors who have had any exposure to COVID-19 or a pending COVID-19 test, will not be permitted.
Other ways you can connect with a patient at HHCS
• Phone a patient's room by dialing: (402)723-4445. Hospital staff will transfer your call to the patient's room.
• Use your personal devices to communicate (smartphones, iPads, tablets, laptops)
• Greetings mailed through the US Postal Service will be delivered to patients Monday-Friday
(March 20) Beginning Monday, March 23rd, both Henderson Family Care and Sutton Family Practice will begin seeing well patients from 9a – noon. From 1p – 5p will be blocked off for sick or ill patients. We are making this move with patient health in mind. We are also asking well patients to delay any well visits if possible during this time. Arrangements for medication refills can be made by contacting our clinic. Thank you for your understanding during this time. If you have any questions please call (402)723-4512.
(March 17) Beginning today, for the safety of our patients, staff, and community- All patients needing clinic appointments must call ahead of time so that proper screening can be done. We will not be able to accommodate "walk-ins". All patients coming in for an appointment that have a fever, cough, sore throat, or shortness of breath MUST put on a mask immediately when entering the clinic and keep the mask on for their entire visit. Keeping our patients, residents, staff, and community safe is of the utmost importance for HHCS. If you have further questions, please feel free to contact our clinics: Henderson Family Care – (402) 723 4512 OR Sutton Family Practice – (402) 773-2130. Thank you again for your continued patience and understanding. We will provide updates of any changes that occur.

(March 15) Legacy Square/ Rosewood Court Residents/Family members:
There have been further restrictions implemented due to recommendations from the Centers for Medicare and Medicaid (CMS) for those living in nursing and assisted living facilities. We were previously allowing close family members to visit, subject to COVID-19 screening protocols from the Centers for Disease Control and Prevention (CDC). Effective immediately we will be restricting ALL visitors, with exceptions for compassionate care, such as end-of-life situations only. In those cases, visitors will be equipped with personal protective equipment (PPE) like masks, and the visit will be limited to one room. We will continue to restrict all volunteers, nonessential health care personnel and services providers (i.e. barbers, beauticians, etc). Our main entrances will now be locked at all times to best protect our residents. We are implementing active health screening of our residents and our health care personnel to ensure proper protection of our health care environment.
We are committed to the health and safety of our patients, residents, staff, and community. We appreciate your cooperation and understanding during this time.
(March 13) Effective today at 5:00pm, our Wellness Center will be closed for members. We will hold all current memberships until we reopen and extend that length to your membership. We are acting on this to further protect our therapy patients and staff by limiting the number of people entering the facility. We apologize for any inconvenience this may cause and we hope you understand our precautionary steps. If you have any questions you may call us at 402-723-4005.
(March 11) Henderson Health Care is actively monitoring the COVID-19 situation. We are working closely with our local health department, the Nebraska Department of Health and Human Services, and the Center for Disease Control (CDC). To protect our staff, residents, and patients we have taken some precautionary measures we want to make everyone aware of:
*Entrances into the facility will be limited. Please use main entrances into the facility only, as other entrances may be locked.
*Visitors with a fever, cough, or other respiratory symptoms are asked not to visit at this time and will be restricted access. Any non-essential visitors are also discouraged.
* All persons entering our facility will be asked a series of screening questions to determine if you are at risk of COVID-19 infection.
*If you are experiencing mild respiratory symptoms – cough, fever – please call our facility before coming in.
*If you need immediate medical attention, please call our Emergency Room (ER) prior to coming to the facility. We will instruct you what entrance to use and will be prepared for your arrival.

We appreciate your cooperation as we strive to keep our patients, residents, and communities healthy.
For additional information about COVID-19, please go to https://www.cdc.gov/coronavirus/2019-ncov/index.html or contact your local health department.

Heartland Community School:
Heartland Community Schools will be closed indefinitely. Please see full announcement here: https://www.heartlandschools.org/vnews/display.v/ART/5e7a7b5db03c3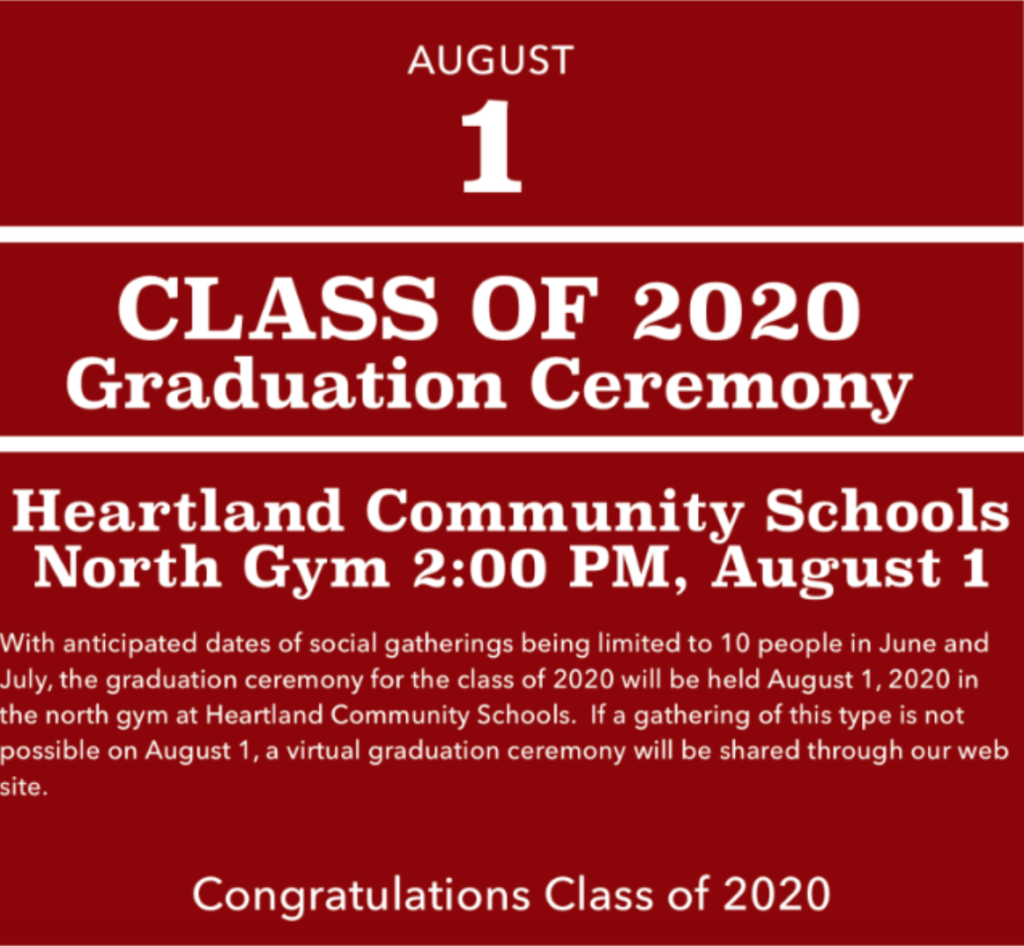 Henderson Food Mart:
(April 4) Henderson Food Mart asks that you please wear a mask or scarf when doing in-store shopping to protect other customers. Thanks for keeping the store safe!
Henderson Food Mart is now doing curbside pickup and delivery. Send us your list through Facebook Messenger, Monday through Friday by 10:00 a.m., and they will be ready for pickup or delivery by 3:30 p.m. This will be a timesaver on those busy nights to grab as you pick the kids up from school or head home from work. Be patient with us as we are setting up a website with the store inventory to choose your items.
You may also call in your order at 402-723-4457 if you would like.
Perks:
The health of our community, customers, and staff is of upmost importance, and like everyone else, we are keeping our eye on the news surrounding this evolving situation and assessing risk. Follow along on Facebook for more information.
At this time:
* We will ONLY be offering take-out orders with limited hours.
* The dining room will be closed.
Thank you for your support and flexibility!
Hours of operation beginning 3/17/2020:
LUNCH: Monday-Friday 11 a.m.-2 p.m. (Full Menu)
DINNER: Thursday 5 p.m.-8 p.m. (Full Menu plus special)
PIZZA Night – Friday 5 p.m.-8 p.m.
Saturday and Sunday: Closed unless otherwise posted on Facebook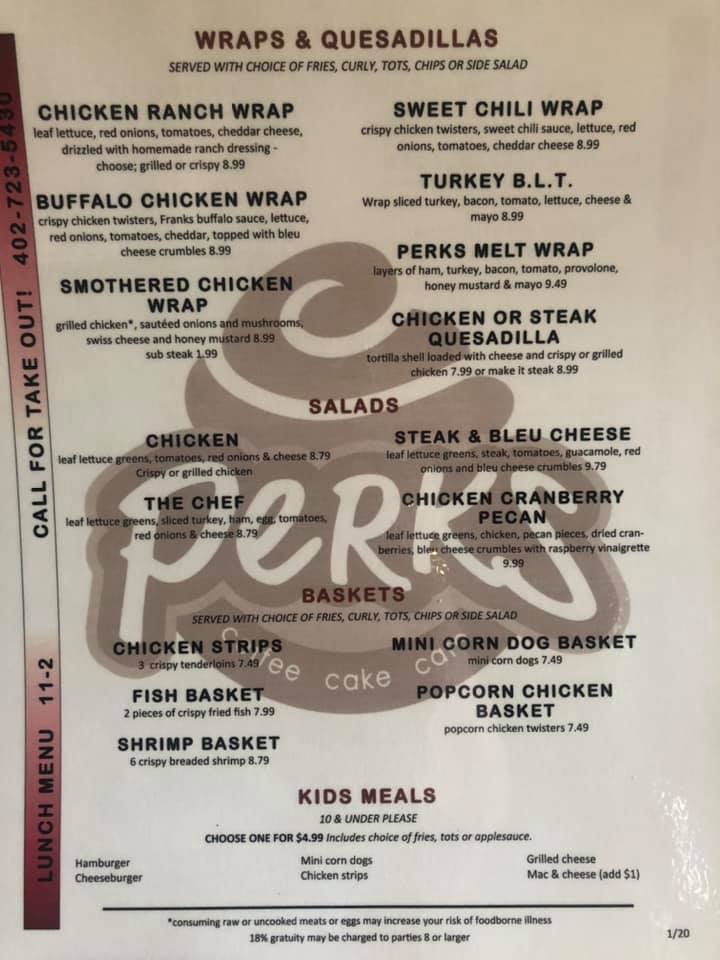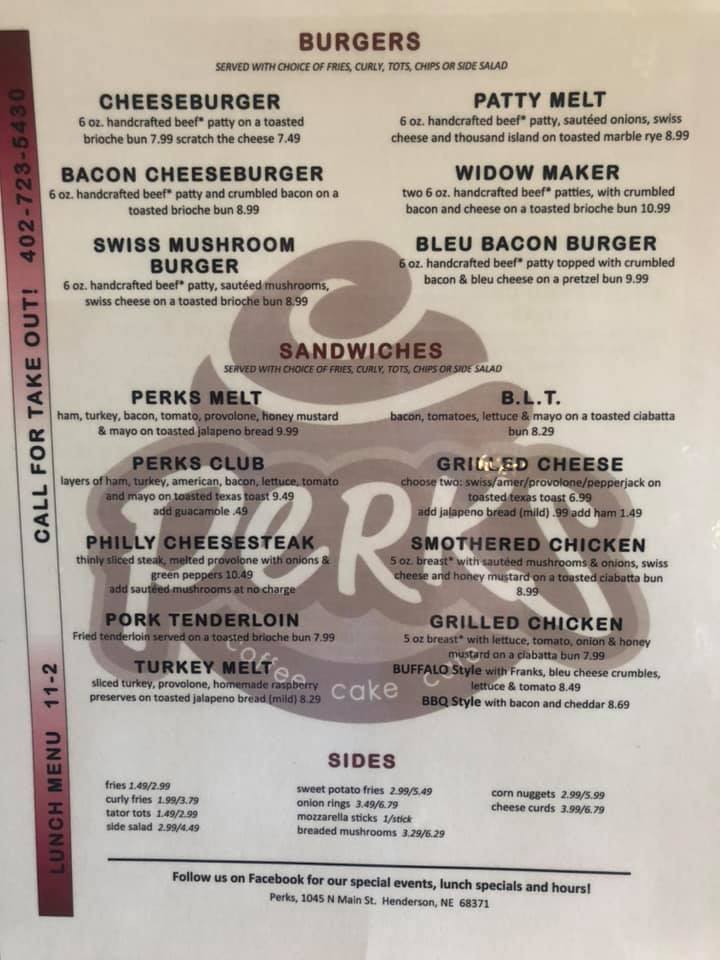 Henderson Pharmacy: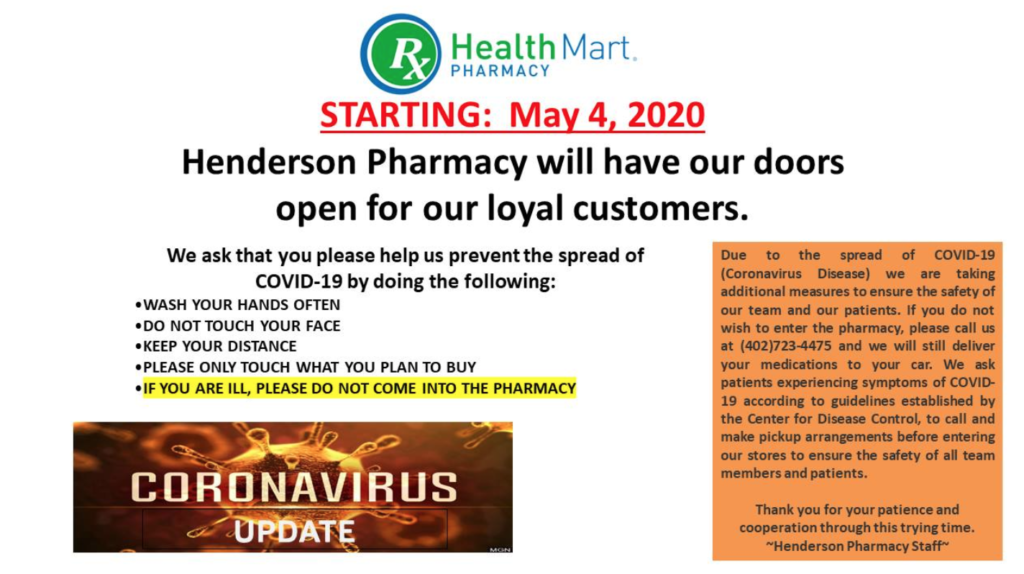 Henderson State Bank:
Henderson State Bank's lobby is open again. If you wear a mask, please briefly pull it down upon entering for security purposes. Customers can also transfer funds and issue bill payments through online banking or utilize drive-thru banking. Their Smartphone app provides for electronic deposits of checks. Cash can be accessed through one of their ATMs.
Henderson City Hall: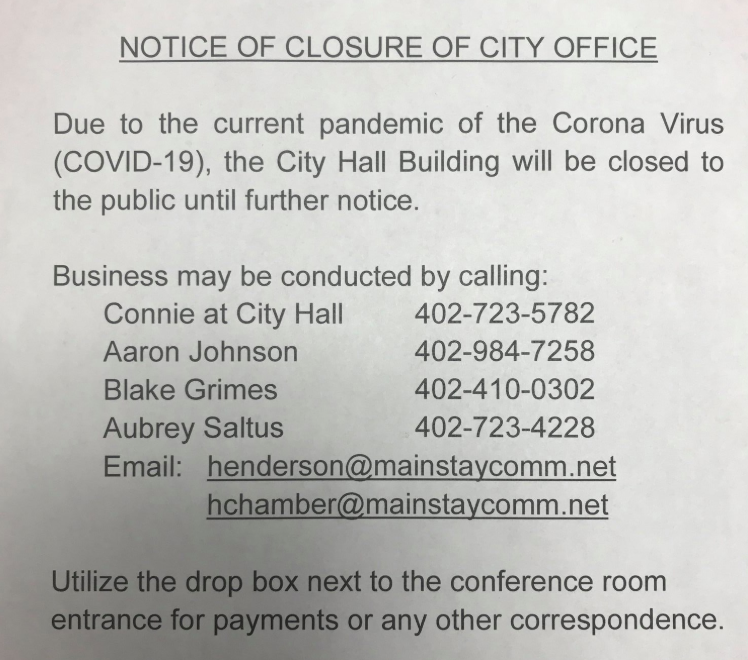 Henderson Garage Sales Postponed: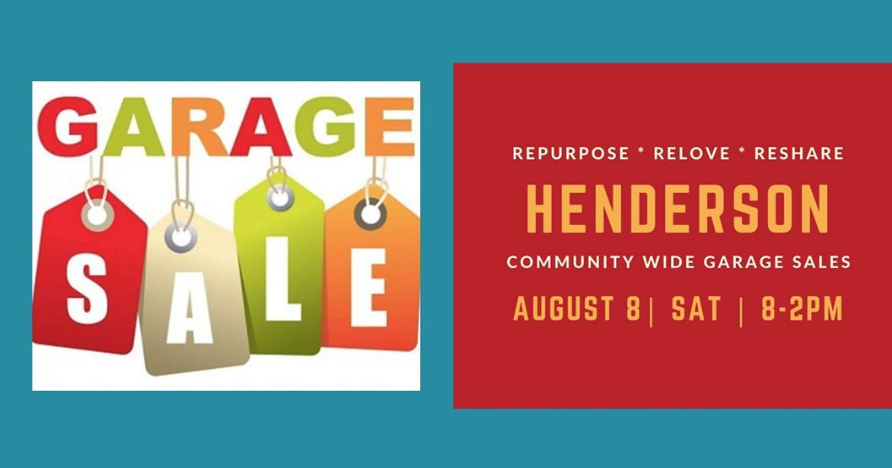 Henderson Community Days
(5/21) The Henderson Chamber of Commerce Board of Directors met today to discuss Community Days. With guidance from HHCS Medical Staff, we have decided to cancel Community Days this year.
Heritage Park
The Henderson Heritage & Tourism Executive Committee has decided to delay opening the Henderson Mennonite Heritage Park until July 1.
Village of Bradshaw:
In response to the Centers for Disease Control and Prevention's (CDC) encouragement of social distancing and recommendation to avoid social gatherings of more than 10 people, the village will be closing the village office to the public starting today until further notice. The village will work with citizens to conduct as much business as possible by phone or email and citizens are encouraged to pay their utility bills by mail or drop-box.
The Village of Bradshaw is taking these proactive steps to do our part in slowing the spread of COVID-19. The Village of Bradshaw encourages local businesses and churches to do what is best for them and to follow state and CDC guidelines and guidance.
The public is also asked to do their part in slowing the spread of COVID-19:
*If you feel sick, stay home
*If you children are sick, keep them home
*If someone in your household has tested positive for Covid-19, keep the entire household home
*If you are a senior citizen, stay home and avoid contact with other people
*If you are a person with a serious underlying health condition, stay home and avoid contact with other people
*If at all possible work from home
*Follow CDC guidelines of social distancing (6 feet apart)
Residents are encouraged to monitor local media for community news and updates on this rapidly-evolving situation.
Comments
comments
Powered by Facebook Comments