October is Breast Cancer Awareness Month and everything has gone pink. From the football field to retail stores, pink is used to remind women and men the importance of early detection through self-exams and mammograms.
Mammography is a specific type of imaging test that uses a low-dose x-ray system to examine breasts. Henderson Health Care upgraded to 3D mammography is September 2018. 3D mammography is an imaging test that combines multiple breast x-rays to create a three-dimensional picture of the breast. Studies show that combining 3D mammograms with standards mammograms reduces the need for additional imaging, slight increases the number of cancers detected during screening and improves breast cancer detection in patients with dense breast tissue. In Spring 2019, Henderson Health Care once again received accreditation from the American College or Radiology. The ACR gold seal of accreditation represents the highest level of image quality and patient safety.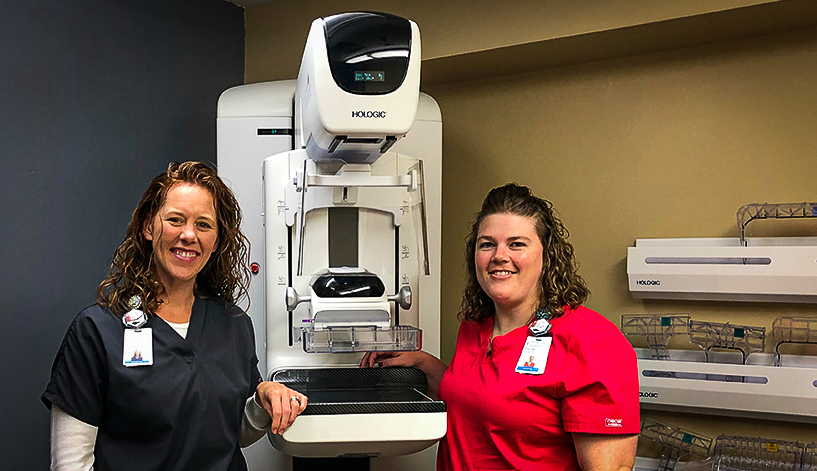 Based on recent statistics, 1 in 8 women (about 12%) will develop invasive breast cancer over the course of her lifetime. A man's lifetime risk of breast cancer is about 1 in 1,000. Nearly 250,000 people will be diagnosed with breast cancer this year. That could be your mother, sister, daughter, your wife, or even you.
Current guidelines from the Center for Disease Control recommend women ages 40 to 49 should have the choice to start annual breast cancer screening with mammograms if they wish to do so. Women ages 50 and older should get mammograms every year. Women of all ages should also know how their breasts normally look and feel, and report any breast changes to a health care provider right away.

Henderson Health Care currently partners with St. Francis Cancer Treatment Center in Grand Island to bring Oncologists, Dr. Copur and Dr. Ramaekers, to Henderson twice a month to provide treatment and support to cancer patients in the area.
Henderson Health Care Radiologic Technologists, Corrine Friesen and Marilee Chervinka, administer over 400 mammograms per year, and that number continues to grow due to increased awareness. "More women understand the importance of getting a yearly mammogram. That early detection can make a difference in the treatment received and the survival rate of the patient," said Friesen.
Henderson Health Care offers mammograms Monday through Friday, with extended hours each Monday in October until 7 p.m., Appointments can be made by calling (402) 723-4512.
Comments
comments
Powered by Facebook Comments