Written by Alyssa Bartek
If I had to put my finger on it, I'm going to say that it is the continuous flow of posts on social media at this time of year about Advent, Christmas traditions, giving, etc., plus a few little people under my roof soaking in this season that has me especially nostalgic. I have fond memories of Christmastime as a child that occurred within the walls of our home, but several of my reflections are tied to the community at large. So, I'm joining the ranks of posts and hope that you enjoy reading about my community Christmas experiences both past and present.
Angel Tree


Past: Angel Tree is getting the first mention because it was particularly impactful. Since I was raised attending church at Bethesda, and this was a ministry outreach opportunity they provided, I had the privilege to participate in the program. Angel Tree serves to provide Christmas presents to children from their incarcerated parent under the ministry of Prison Fellowship. As a Sunday school class or with my family, we would purchase gifts for children whose ages, sizes, and interests were marked on cards. Then, in some cases, we even had the opportunity to deliver the gifts. This was my favorite part. I walked into different apartments/houses in Geneva, York, and Grand Island that were much different than my own circumstances. While certainly marked with elements of sadness, it was an amazing opportunity to connect with people and extend a smile and small gift to tell them they were cared about. When I was recently at Bethesda and saw the Angel Tree in their fellowship hall, I couldn't help but pause to think of the significance of the ministry on both sides.
Present: Special giving in our family at this time of the year takes on different forms than Angel Tree, but is still a significant aspect. Some years it has been doing the Operation Christmas Child boxes, sending gifts to children we sponsor in poverty programs, or our church at Stockham organizing the purchasing of beef for a local family in need. As Christians, it's a time to pause at the ultimate gift we've received in God sending Jesus, and with gratitude, extend generosity to those immediately around us and around the world.
Children's Christmas Program
Past: It's a classic way to teach children the Christmas story–put them in it! Throughout my years of growing up in the community, I remember many different Christmas programs we did and the slightly different angle of the story it took each year. At that time, there were costumes, scripts to memorize, and Saturday morning practices to be had. I'm not sure I was always thrilled about that last part. However, what I can remember is that it was a special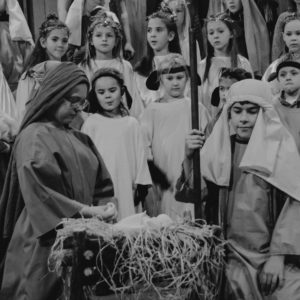 marker of the season–the Christmas story would be retold, and it was worth a bit of effort to do so. After our performance at church, we would also receive a wooden piece each year to add to our collection of the nativity. It is a set I still have today.
Present: Now this a tradition I get to experience from the parental role. My children had their program two weeks ago, and this year's was back to the basics with straight scripture reading, traditional Christmas hymns, and candlelight. It was simple, meaningful, and retold the story which has been recited for 2000+ years!
NHS Food Drive

Past: This tradition was tied to attending school at Henderson/Heartland. I remember in elementary bringing items for the food drive that would be donated to local families. My mom was really good about knowing the list and sending items with us. When I reached high school and was in the National Honor Society that ran the drive, we helped with the sorting, packing, and delivery of these items. Similar to my experience with Angel Tree, we had the opportunity to interact with the recipients of the food and items. It was very special to feel that sense of community.
Present: This year I have a second grader at Heartland who got to participate by way of taking items. His teacher made a great list with pictures to help convey what the students could bring each day to place in the collection box. We take the opportunity to explain how this goes to people right around us in our communities.
Tour of Homes
These last two reflections were not part of my childhood in Henderson, but are events I always look forward to now. In my recollection, I was back from college the first time I went on the local Tour of Homes. As someone who has always loved houses, I enjoy getting the chance to walk through other people's spaces and see how they utilize it. It's a beautiful form of hospitality from those who open their homes to the community. I could describe numerous meaningful aspects that have stood out to me during the years that it has been hosted. And, it all supports the Heritage Park where my son just had an old-fashioned Christmas field trip to this week! (Maybe he will be writing about it in a similar article someday!) What a great asset to have in our town.

Spirit of Christmas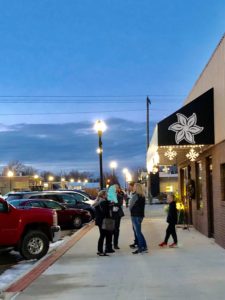 We have made it a point to get out each year for the Spirit of Christmas around town. It combines a set time and space for the community to gather, local businesses to support, and activities for children. Since it's often hosted at the end of November, it's a significant way to mark the beginning of the season and spend a night out before the craziness of all the activities pick up. I remember one year a gentle snow was falling as we strolled around. It definitely felt a little magical. This year, my son kept track of all of his classmates he saw while we walked around, and by the end of the evening, he had seen over half his class. I'd say that's a great indication of a family-friendly seasonal event.
In writing this, a few other areas came to mind that I could have wrote about. Some could mention Christmas caroling, Christmas eve services, MB's Christmas at the Barn, or buying presents for families through the school. I also know that there are those with unique Christmas traditions that span many decades. Whatever you incorporate or participate in, I hope it enhances the meaning of the season for you and helps you to look with joy on opportunities we have here in rural Nebraska both this year and in the years to come!
Christmas program photos from Stockham Community Church 
Comments
comments
Powered by Facebook Comments