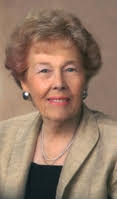 Bette Marie Petersen Votaw age 92, of Wellfleet died on July 25th in Lincoln, Nebraska.
Bette was born in North Platte, Nebraska on January 17, 1925 to Fred Christian Petersen and Elizabeth Katherine Brodbeck Petersen. Bette graduated from North Platte High School in 1942, where she was the yearbook editor. She became a life-long Husker when she attended the University of Nebraska-Lincoln, from which she earned her Bachelor's Degree in Business Education in 1946. Following graduation, Bette was employed by the Nebraska Department of Health and Social Services in North Platte.  She then joined the Farmers Home Administration as an Administrative Assistant.
On April 10, 1950 Bette was united in Marriage to Eli B. Votaw Jr. at the First Evangelical Lutheran Church of North Platte, where she was a lifelong member.  As a new bride Bette was very determined to become an intricate part of the rural life. Her passion paid off as her and Eli diligently worked together to build the historic E Bar V Angus Ranch. Two cherished accomplishments were bestowed upon Bette and Eli in recognition of their contributions to the improvement and advancement of Angus in the United States. The American Angus Association inducted them into the Angus Heritage Foundation in 1999, and in 2006, the Nebraska Angus Association presented them with the Nebraska Pioneer Producer Award.
Bette was well known for serving in leadership roles in her local and agricultural communities. She was a charter member of the American Angus Auxiliary, in which she enjoyed serving on its many committees and held various officer positions including the National President in 1993-1994.  During her tenure as President, she helped host the 7th World Angus Forum. Her long, outstanding, and empowering service in the Angus Auxiliary earned her the Distinguished Woman of the Year award in 2012.  Bette's passion for cattle also led her to serve on numerous committees for the Nebraska Cattlewomen and the Nebraska Angus Auxiliary.  Her influence extended far beyond agriculture as she was active with numerous Community Committees.  This included the Nebraska Public Broadcasting Board in the 1980's, and as a persistent advocate for encouraging women, Bette served on the Rape and Domestic Violence Board for Lincoln County.
Stylish, and always with her classic beauty, Bette would put a smile on everyone's face as she stepped out of the driver's side of the pickup truck, after hauling her daughters and their show calves to state and national cattle shows. She could roll up her sleeves and work hard, yet had style and grace that could light up a room. Bette was also very proud of the accomplishments of her children and grandchildren, all of whom could count her in their corner cheering them on. She also gave us wonderful business advice and was a whiz in geography. We will all dearly miss her endearing smile and quick wit amongst her other many wonderful characteristics.
Those left to cherish her memory are her two daughters, Kathy Marie (Louis) Dubs of Billings, MT, and Kerri Ann (Steven) Kliewer of Henderson; grandchildren: Merici Vinton (Dominic Campbell) of London, England, Katrina (Adam) Petersen of Billings, MT, Allison Dubs of Omaha, NE, Chase Eli Kliewer of Omaha, NE, Garrett Kliewer of New York City, and Mariah Kliewer of New York City; great-grandchildren, Hopkins Vinton Campbell and Reagan Petersen; and many nieces and nephews.
Preceding her in death was Bette's husband of 62 years, Eli Votaw, her beloved daughter Christine Sue Votaw Vinton, son-in-law Patrick Donald Vinton, her parents, and brother, Fred Petersen, PhD.
Services will be August 18, 2017 at 10:30am at the First Lutheran Church of North Platte, NE with a lunch to follow.  Burial will be at the Fort McPherson National Cemetery August 18, 2017 before the service at 9:30am. Memorials can be directed to American Angus Auxiliary 3201 Fredrick Ave. Saint Joseph, MO 64506, Chris Votaw Vinton Memorial Scholarship at UNL, or First Lutheran Church in North Platte.
Comments
comments
Powered by Facebook Comments