It's "The Pride of All Nebraska," but with two Heartland alumni in this year's Cornhusker Marching Band, it also carries special hometown pride for our area.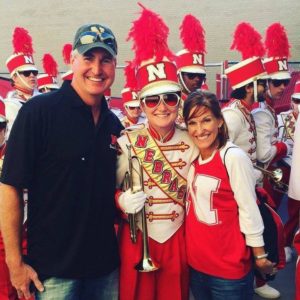 Kaitlyn Quiring, a junior at the University of Nebraska-Lincoln, is entering her third year in the marching band. She decided to hang on to her trumpet after taking lessons from LJ McCormick and playing with him and his friends in a small ensemble in Lincoln. "During the rehearsal, I talked with the musicians there and realized that playing trumpet was something I wanted to continue on with in college," she explained. While there are a variety of musical ensembles to join, she chose the marching band for the exhilarating atmosphere.
Describing her marching band experience as amazing, she really enjoys the fun songs, halftime shows, and traveling. One unique highlight for her was playing at the Foster Farms Bowl in California during her freshman year. The band flew out on Christmas Eve and spent Christmas in San Francisco. Of course, she also said she's made great friendships through the band and has a close community amidst a very large campus.
Kaitlyn has kept busy in college with a major in advertising and minors in German and psychology. In January, she will be studying abroad in Berlin for the semester.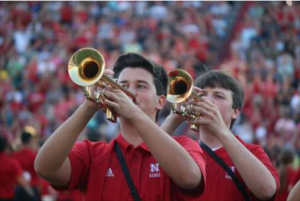 New to the marching band this year is freshman Mark Perez Jr., son of Mark and Stacy Perez. Also a trumpet player, his interest was really sparked in music when he earned first chair in the Meridian Honor Band in eighth grade. With the encouragement of band director Royce Schweitzer, this helped him realize he possessed a musical gifting.
Also realizing his talent, his dad found a band camp at UNL in the summer and encouraged him to attend. That experience was the ticket to get him hooked on the idea of someday joining the UNL Marching Band. Mark decided to spend high school cultivating his music skills and continued attending the camp at UNL each summer. As he served as a teacher's aide for Mr. Schweitzer, it affirmed his future career path would a major in music education and a desire to teach someday at the high school level.
The marching band practices from 7:00-8:20 a.m. on weekday mornings. On Wednesdays they have sectionals at 6:30 a.m., and Saturdays are game days! Kaitlyn and Mark are two musicians among the 300 member group and follow a history of several local students who have belonged to the band.
Since he recently went through the process of joining the marching band, Mark said, "I would encourage high school students who will be going to UNL to try out for the band. It's not as intense or scary as it may seem, and it really is a fun time with many special traditions."
Nearly 100,000 people will fill Memorial Stadium on Saturday and will be led, in part, to cheer on the Huskers by these two local and dedicated musicians.
Comments
comments
Powered by Facebook Comments