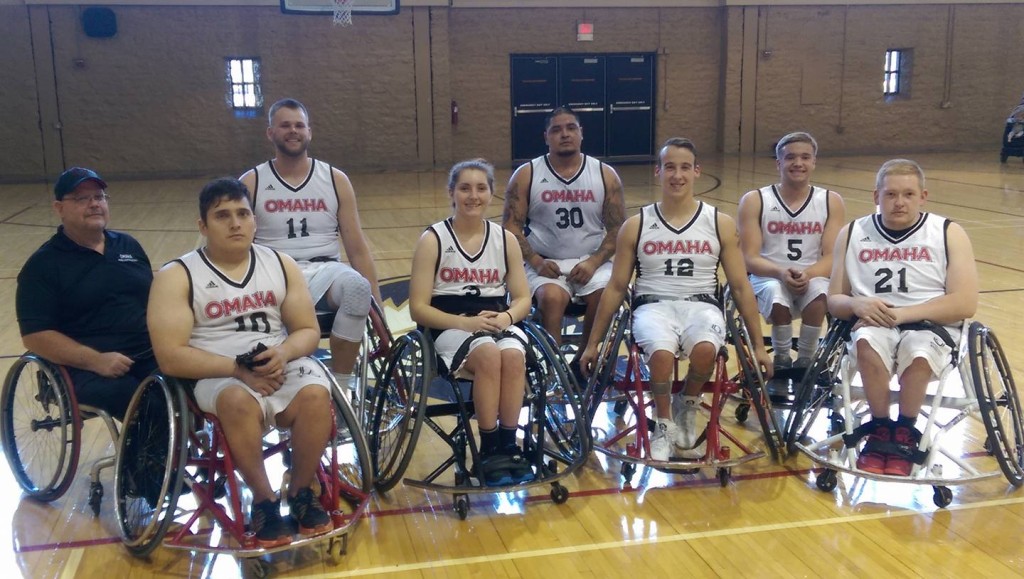 The Henderson area enjoyed watching Brent Regier play basketball during his time at Heartland from 2009-2013. Now a junior at the University of Nebraska-Omaha, Brent is still actively playing the sport–his game has just taken on a different form than before.
While shooting hoops at the gym a year ago, a man noticed Brent looked a little different on his feet than most people. He approached Brent to ask him about it and learned that Brent did indeed have a condition where is toe bone didn't fuse properly to his foot causing very high arches. The man introduced himself as the coach of a wheelchair basketball team and invited Brent to come to practice to check it out.
While it wasn't a sport Brent had on his radar to play, after visiting the practice, he decided to join the team. At the college level, wheelchair basketball can include players without disabilities, but at UNO all of his teammates have some sort of condition that affects their daily mobility. Four out of the seven players are always in a wheelchair while Brent and two other teammates (one a single amputee and one with spina bifida) can walk.
Their basketball season runs from mid-October until March. Including tournaments, they will play 30-40 games in a single season. They are under the coaching of Mike Kult.
Although Brent was a stranger to the sport just over a year ago, at the beginning of this month, he learned he had been selected for the U.S. Men's Under 23 Wheelchair Basketball Team. This process entailed filling out an application where 31 athletes from high school and college were selected to go to Colorado Springs training center. There the men scrimmaged for five days under the vigilant observation of coaches. From that experience, Brent earned a spot on the team as well as one of his UNO teammates.
Next Brent and the selected players will travel to Argentina for the International Wheelchair Basketball Federation Continental Qualifier that takes place from January 22-29. The top two teams there will qualify to compete in the world championships this summer in Toronto.
"The support from home has been awesome," commented Brent. Many people are excited to learn about the sport, and he values the exposure wheelchair basketball is gaining. "It's a very tight-knit community of people," he explained.
Brent is currently pursuing a degree in Architectural Engineering from the University of Nebraska-Omaha and plans on participating in two more seasons of wheelchair basketball.
Good luck to Brent and his teammates as they travel to compete in South America!
Update: The U.S. Men's U23 Team went undefeated at IWBF America's U23 Qualifier in Argentina and qualified for 2017 U23 World Championships. They will be in Toronto, Canada, on June 8-16.
You can follow along with the UNO Wheelchair Basketball Team here:Â https://www.facebook.com/UNOWBBFans/