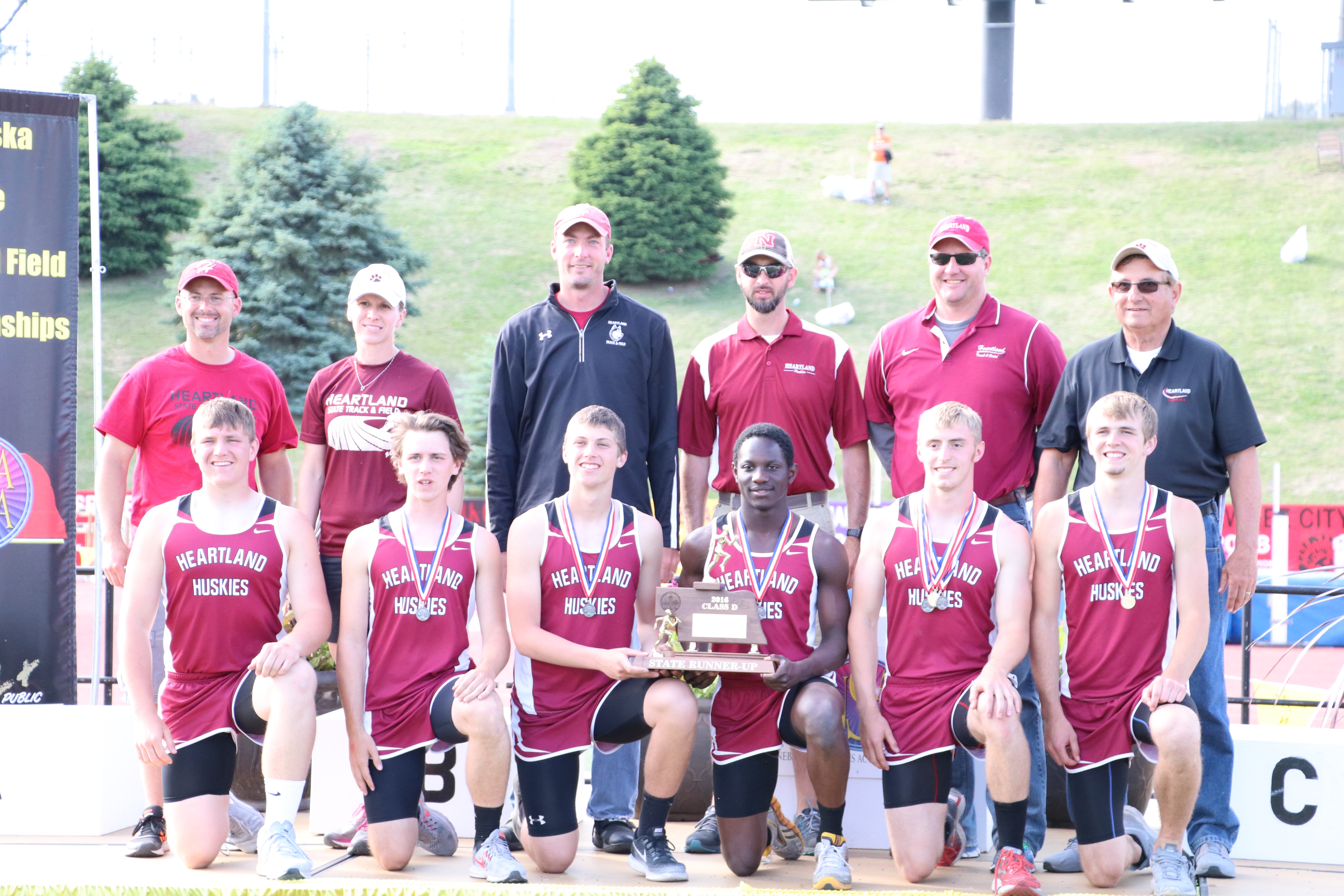 The cloudy and rainy weather at the 2016 Nebraska State Track Meet certainly didn't put a damper on the performance by Heartland athletes. After a great two days of competition, several Huskies were decorated with medals, and the boys team even earned the Class D Runner-Up trophy. In a final tally, the boys scored 44 points, just three points behind the winner High Plains.
Junior Austin Stuhr placed first or second in three individual events as well as a relay. His classmate Ben Driewer earned first in the pole vault. The excitement surrounding the team is sure to carry on as none of the state qualifiers were seniors; they will all be returning for track next year!
The Heartland girls also had a notable performance placing in four events. Sophomore Taylor Quiring grabbed a gold medal in the 400 Meter Run. Since all of these girls will also be returning to track next year, an exciting competition will be taking place for them as well.
Boys Results:
Austin Stuhr — 1st 100 Meter Dash: 11.21, 2nd 200 Meter Dash: 22.92, 2nd 400 Meter Run: 51.18
Ben Driewer — 1st Pole Vault: 14'06.00″
Boys 400 Meter Relay — 2nd Heartland (Kodjo Atikpohou, Lane Huebert, Noah Boyd, Austin Stuhr): 44.98
Also competing for the boys was Kyle Ott in the Shot Put with a best throw of 44'06.75″.
Girls Results:
Taylor Quiring — 1st 400 Meter Run: 59.67
Olivia Casper — 5th Pole Vault: 10'02.00″
Brittany Quiring — 5th 800 Meter Run: 2:28.37
1600 Meter Relay — 3rd Heartland (Bailey Peters, Taylor Quiring, Brittany Quiring, Ellie Steingard): 4:11.95
Also competing for the girls was Kori Siebert in the 100 Meter Hurdles with a time of 17.29.
Click the photos to view
[slickr-flickr search="sets" set="72157668808720745″ items="20″ type="gallery"]
Comments
comments
Powered by Facebook Comments