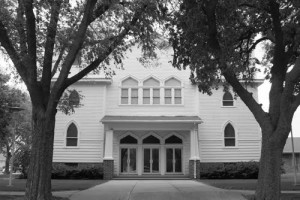 The Henderson Mennonite Brethren Church kicks off "Wednesday Night Live" on September 12 in the Family Center.  Each Wednesday evening begins with supper at 6:00 pm at the Praise Café.  The first week will be a pizza extravaganza!  Meals are $2 per person or $6 per family.
After supper there are activities for all ages:
Primetime – For kids age 3 through 6th grade, beginning at 6:45 pm.
K-6th graders will learn at "Big Wave Discovery" where the excitement of the beach will meet up with answering the big questions kids have about God, Jesus, the Bible, prayer, the church, and more!
Kids age 3-5 will have a separate classroom experience for learning.
There is nursery care available for those younger than 3.
CHAOS– For junior high youth/grades 7-8, beginning at 7:00 pm
Questions have the power to change people. Â That's what makes them so important. Â Through his questions, Jesus inspired people to receive healing they didn't know they needed, confront struggles they didn't know they had, and expose secrets they didn't know they kept. Â And Jesus invites us to that same life today. Â Come on Wednesday nights to hang out, have fun and dig into the story of Jesus. Â All year we will be looking at Jesus' life in the book of John. Â The year kicks off Wednesday Sept. 12 at the MB church with an epic game of Bigger or Better! Bring a friend and we hope to see you there. Â CHAOS is led by Jason & Nicole Quiring.
Reach – For high school youth/grades 9-12
Craig & Christine Quiring and Bret & Laura Jost lead the youth group.  It begins at 7:00 pm in the large basement area.  There will be a kickoff party at Craig & Christine's house (1613 Road D, Bradshaw) starting at 7:00 pm the first week and ending at 9:00 pm.  There will be a campfire, games, and food.  They will be studying parables, using both modern video clips and God's Word.  There will also be a study using curriculum from the movie "Soul Surfer."
Adult Bible Studies – There will be two studies available, with more information to follow.
Activities conclude at 8:00 pm for everyone.
Comments
comments
Powered by Facebook Comments