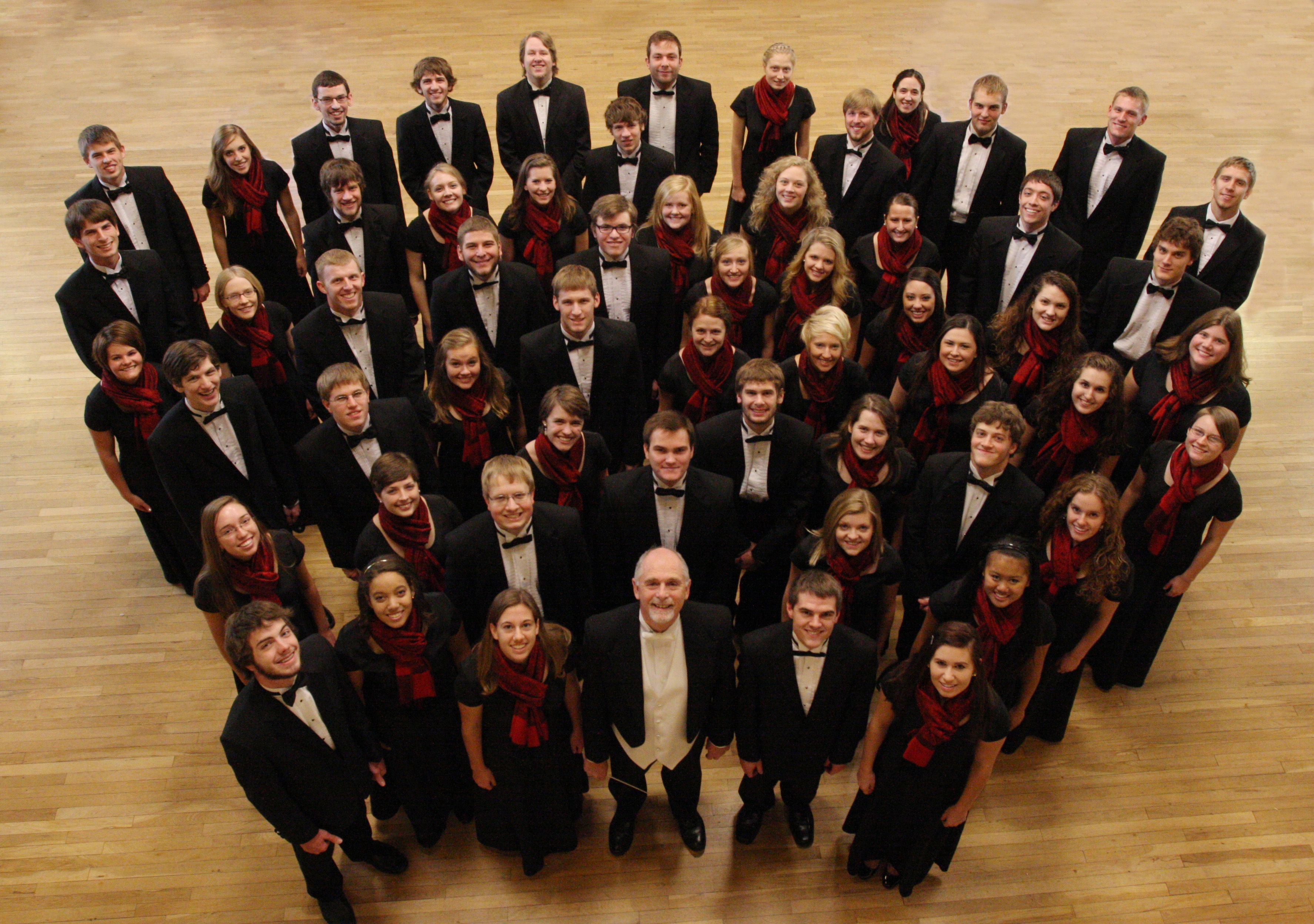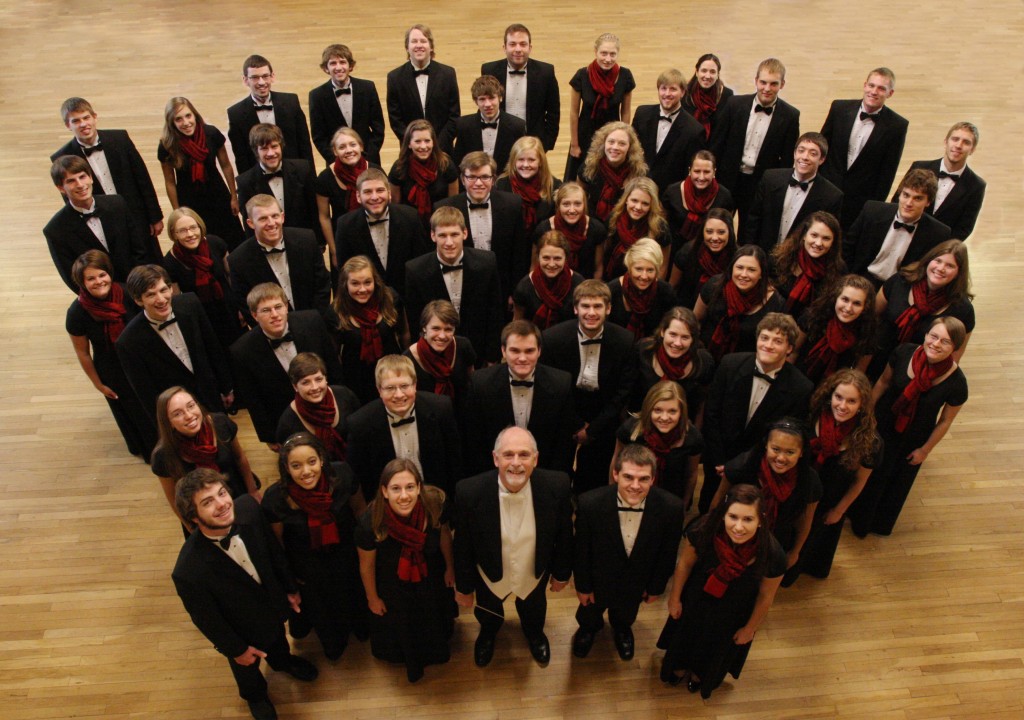 NORTH NEWTON, KAN. – The Bethel College Concert Choir will have a busy spring break, singing in six states, including Kansas, between March 16 and March 25.
The 52-member group leaves the morning of March 16, a day early, in order to travel to Denver for a concert at First Mennonite Church (430 West 9th Avenue, Denver) at 7:30 that evening. If there's time, they will make a stop on the way at St. Fidelis Church, the "Cathedral of the Plains" in Victoria, Kan., to enjoy singing in the historic sanctuary.
The choir next travels to Henderson, Neb., for a concert at Bethesda Mennonite Church (930 16th Street, Henderson) during the morning worship service at 9:30 a.m., March 18. They will go on Freeman, S.D., for a concert that evening at 7:00, at Salem Mennonite Church(28103 443rd Avenue, Freeman).
After singing at Freeman Academy's chapel service on Monday morning, March 19, the choir will travel to Mountain Lake, Minn., for a 7 p.m. concert at Bethel Mennonite Church (301 North 9th Street, Mountain Lake) that evening.
Tuesday, March 20, the choir sings a 7:30 p.m. concert at Faith Mennonite Church (301 North 9th Street, Minneapolis).
After a free day in the Twin Cities Wednesday, March 21, they will travel to Iowa Thursday, March 22, for a 7 p.m. concert at West UnionMennonite Church (3253 305th Street, Parnell).
Friday, March 23, after singing in the morning chapel service at Iowa Mennonite School in Kalona, the choir travels to Kansas City, Mo., for a 7:30 p.m. concert at Grace and Holy Trinity Cathedral downtown (415 West 13th Street/13th and Broadway).
Saturday evening, March 24, they will sing at 7 p.m. in Grace Episcopal Cathedral in Topeka (701 Southwest 8th Avenue).
On the final day of the tour, Sunday, March 25, the choir sings in the 10:30 a.m. worship service at Southern Hills Mennonite Church (511 Southeast 37th Street, Topeka) before concluding the tour with the traditional home concert at 7 p.m. in Memorial Hall on the Bethelcampus.
The 2012 Bethel College Concert Choir repertoire includes "Heilig" by Felix Mendelssohn Bartholdy; "Te Deum" by Domenico Scarlatti; "O Magnum Mysterium" by Morten Lauridsen; "Ave Maria" by Kevin Memley; "Witness" by Edwin Fissinger; "Venite populi" by Mozart; "Der 2. Psalm" by Felix Mendelssohn Bartholdy; "When David Heard" by Eric Whitacre; "Light of a Clear Blue Morning," arranged by Craig Hella Johnson; "All My Trials" and "Do Lord Remember Me," both arranged by Norman Luboff; "Horizons" by Peter Louis van Dijk; "Prayer of St. Francis" by Barrie Caben; "Ride On, King Jesus," arranged by Robert Fountain; "I Peter 3:15" by Nathaniel Yoder; "Not One Sparrow is Forgotten," arranged by William Hawley; and "The Lord Bless You and Keep You" by Peter Lutkin.
Nathaniel Yoder, composer of "I Peter 3:15," is a 2011 Bethel College graduate and four-year Concert Choir alumnus. The piece won first place in the 2012 Kansas Music Educators Association competition. Yoder is also a graduate of Iowa Mennonite School.
William Eash, professor of music at Bethel College, directs the choir along with student conductors Anna Cook and Andrew Voth, recipient of the Walter H. Hohmann Choral Conducting Endowed Scholarship at Bethel College. Rehearsal accompanists are Jordan Ortman, Austin Unruh, Kelsey Ortman and Renee Reimer. Student choir manager is Julia Huxman with assistant choir manager Ariane Bergen.
All of the choir's concerts are free and open to the public. Freewill offerings will sometimes be taken.
Bethel College Concert Choir personnel are: Landon Bartel, Newton, Kan.; Ariane Bergen, Moundridge, Kan.; Joel Boettger, Hesston, Kan.; Jacob Brubaker, Miami, Ariz.; Dmitry Bucklin, Mountain Lake, Minn.; Anna Cook, Lawrence, Kan.; Kyle Doesken, Derby, Kan.; Nicole Eaton, Dodge City, Kan.; Erin Engle, Salem, Ore.; Eric Goering, McPherson, Kan.; Maggie Goering, Hutchinson, Kan.; Kellen Goertzen, Henderson, Neb.; Ryan Goertzen, Goessel, Kan.; Naomi Graber, Elkhart, Ind.; Sara Gragg, Topeka, Kan.; Julia Huxman, Wichita; Evan Koch, Colorado Springs, Colo.; Kevin Leary, North Newton, Kan.; Carl Lehmann, Freeman, S.D.; William Lewis, Newton; Caroline Mayhew, Lawrence, Kan.; Taylor McCabe-Juhnke, North Newton; Andrew Miller, Freeman; Audra Miller, Hesston; Julia Miller, Hesston; Jordan Ortman, Marion, S.D.; Kelsey Ortman, Freeman; Sarah Pohl, Moundridge; Amanda Regehr, Whitewater, Kan.; Emma Regier, Newton; Renee Reimer, Sioux Falls, S.D.; Christopher Riesen, Beatrice, Neb.; Aaron Rudeen, Osage City, Kan.; Elizabeth Shelly, Lenexa, Kan.; Megan Siebert, Topeka; Ariel Silva, Colorado Springs; Brian Skinner, Clay Center, Kan.; Nathan Snyder, Fruita, Colo.; Taylor Stucky, Moundridge; Aaron Tschetter, Freeman; Austin Unruh, Goessel; Kristin Unruh, Goessel; Melissa Volk, Newton; Rachel Voran, Newton; Andrew Voth, Topeka; Cameron Voth, Goessel; Andrew Walker, Newton; Lindsay Waltner, Freeman; Miranda Weaver, Hesston; Miriam Weaverdyck, Ann Arbor, Mich.; Jocelyn Wilkinson, San Antonio, Texas; and Allison Yoder, Kalona, Iowa.
William Eash directs choral activities at Bethel College, where he is responsible for four choirs. He also teaches conducting and music history. He has been at Bethel College since 1999. Eash is a graduate of Bluffton (Ohio) College with a bachelor's degree in music performance (voice and string bass). He studied voice at the "Hochschule für Musik und darstellende Kunst" in Vienna and completed his master's and doctoral degrees in choral conducting at the University of Iowa.
** In addition to Kellen Goertzen, a senior athletic training major from Henderson and a graduate of Heartland High School, other singers with Henderson connections include:Â  Andrew Voth – son of Tim Voth ' 71, Lindsay Waltner – daughter of Margie (Peters) Waltner ' 75, Cameron Voth – son of Becky (Peters) Voth ' 76 and Elizabeth Shelley – daughter of Carmen (Epp) Shelley ' 79.
Bethel College is the only private, liberal arts college in Kansas listed in the 2011-12 Forbes.com analysis of top colleges and universities in the United States and is the highest-ranked Kansas college in the Washington Monthly annual college guide for 2011-12. The four-year liberal arts college is affiliated with Mennonite Church USA. For more information, see www.bethelks.edu.
Provided by Kathryn Goertzen
Comments
comments
Powered by Facebook Comments