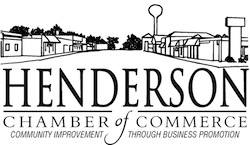 With so many events happening this weekend during Henderson's Community Days, there are several tips that you should know to make this weekend more enjoyable for you and your family.
Pre-register for events to save time and money.  It is easier for event coordinators and your own scheduling if you register for the events you are interested in before this weekend.  Events  needing registration include the Grand Parade, Dodge Ball Tournament, Pitch Tournament,  HHCS Jr. Auxiliary Jaunt, Show & Shine Car Show, Sand Volleyball Tournament and Golf Tournament.  It will be possible to participate in these events even if you just show up the day of the event, but it will be easier for everyone if you register ahead of time.  For registration forms, visit www.cityofhenderson.org or stop by the Chamber Office at City Hall.
Check the events schedule below to see what events are happening throughout the weekend, such as the Photo Scavenger Hunt, Alumni Basketball Tournament and Putt-Putt Golf Course.  Some of these events are time sensitive so plan ahead so you don't miss out.
In order to ensure your comfort and avoid standing for long periods of time, bring a lawn chair to events that last an hour or more.  Longer events include the Grand Parade, Dodge Ball Tournament, Johansen Sisters Concert and Sand Volleyball Tournament.
Be sure to wear bug spray and sunscreen during the weekend and prevent bug bites and sunburns.
Don't plan to eat at home this weekend.  From the Hamburger Fry Friday evening, to the Pancake Feed Saturday morning at Heritage Park, breakfast and snack items at the Farmers Market, the noon meal at the Lake View Park and the Chamber BBQ Saturday night, we have your meals covered with plenty of places to eat during Community Days.
Print the Community Days poster and keep it with you during the entire weekend.  This way you will not miss any events and you will always know what is happening next.
Sit somewhere other than Main Street for the Grand Parade.  With the parade starting at 6 p.m. at the corner of Oak Street and 17th Street, the parade will be traveling down Front Street before it gets to Main Street at 6:30 p.m.  You can find a great shady spot to sit in front of the school or in the downtown park.  With less of a crowd in these areas, you may also have a chance to get more candy.
Drink plenty of water throughout the weekend.  With the high temperatures that July brings, it is smart to drink a lot of water to stay hydrated.
Want to do some free advertising? Enter a float in the parade for free and promote you business, family, class, special interest or creative idea for FREE.
Have Fun! With so many activities happening on July, 8, 9 & 10 there will be plenty of fun things happening throughout the weekend.
Comments
comments
Powered by Facebook Comments