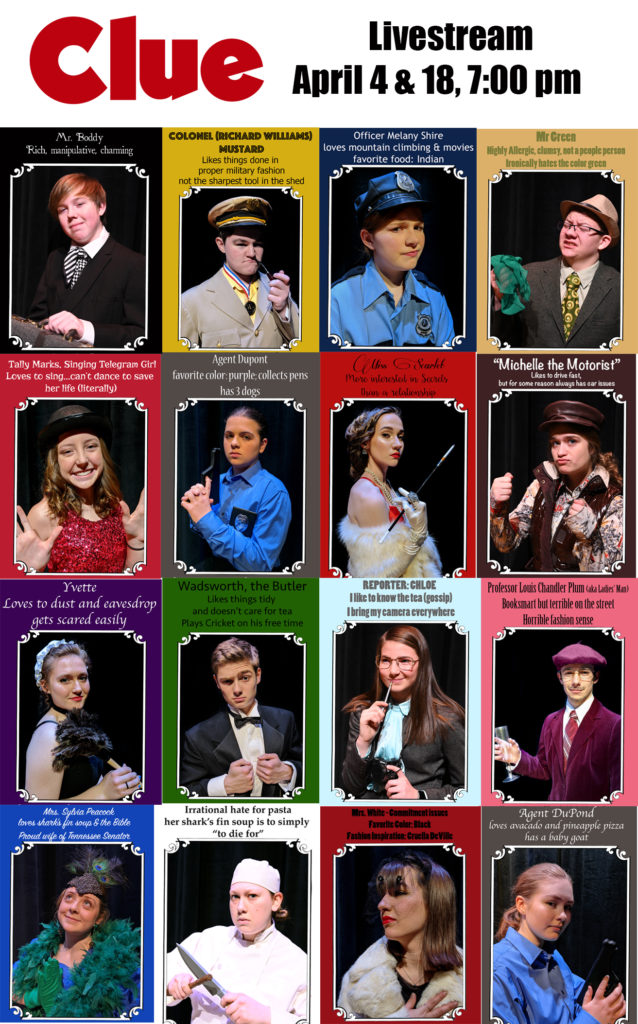 Over 25 Heartland High School students (cast and crew) have been working diligently since January to get ready for the school's spring production of "Clue on Stage."
Unfortunately with the school closure due to Covid-19, the play was not able to be shown live to the public. However, we were able able to videotape our final rehearsal as a performance to show to the public. This showing will be tonight, April 4 and again on Saturday, April 18, both at 7:00 pm via Striv livestream.
To watch this hilarious murder mystery mayhem, tickets may be purchased at brownpapertickets. Per the license agreement, each person watching the livestream must purchase a ticket. Once tickets have been purchased, an email will be sent to you with a link, password, and a program of the cast and crew.
"Based on the iconic 1985 Paramount movie which was inspired by the classic Hasbro board game, Clue is a hilarious farce-meets-murder mystery. The tale begins at a remote mansion, where six mysterious guests assemble for an unusual dinner party where murder and blackmail are on the menu. When their host turns up dead, they all become suspects. Led by the Wadsworth – the butler, Miss Scarlett, Professor Plum, Mrs. White, Mr. Green, Mrs. Peacock and Colonel Mustard race to find the killer as the body count stacks up. Clue is the comedy whodunit that will leave both cult-fans and newcomers in stitches as they try to figure out…WHO did it, WHERE, and with WHAT!" Clue is produced by Broadway Licensing/Playscripts Inc. It is based on the screenplay by Jonathan Lynn with additional material by Hunter Foster, Eric Price, and Sandy Rustin.
Comments
comments
Powered by Facebook Comments