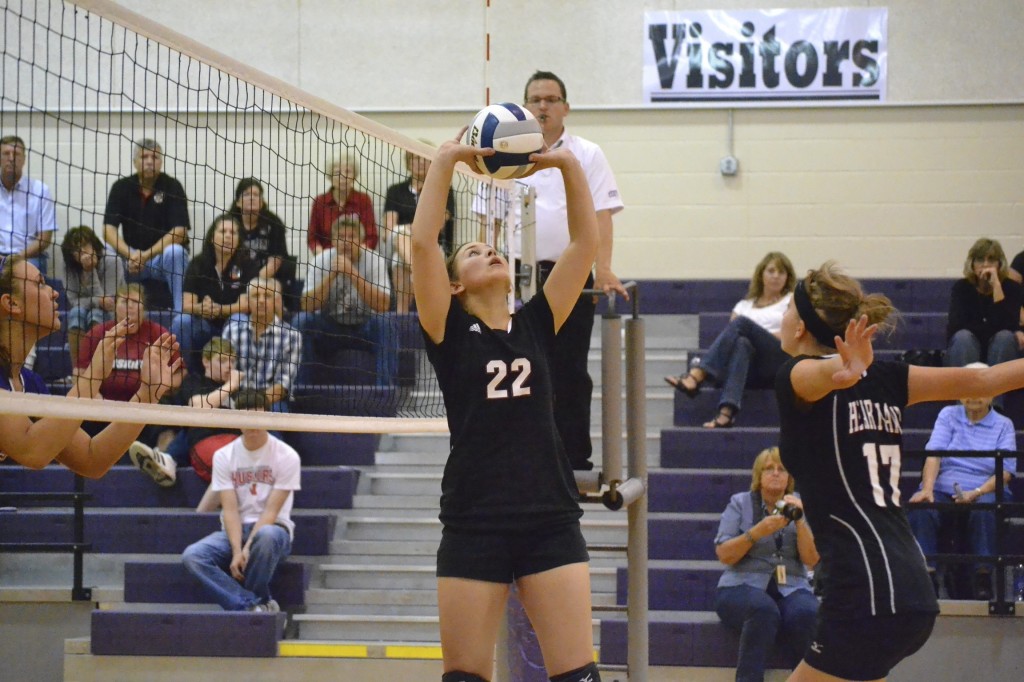 The Heartland Huskie Volleyball team had no time to rest this week as they headed east to play in the Milford Triangular last night.
The first match would be against the Superior Wildcats. Â Despite Superior's significant height advantage over the Huskies, Heartland played very well together and would win it 2-0, 25-18 / 25-19. Stats from the game are below.
Next up was the home team and C-2 #10 ranked Milford Eagles.  The first set was all Huskies as they dominated by serving and hitting very well. However, the second set proved to be a different story.  The Milford Eagles weren't going to go down without a fight as the Huskies struggled to get anything going early in the second set.  The Huskies found themselves at one point down 10-18, but after a timeout the Huskies started to get on a roll by getting a few ace serves from Senior, Brielle van den Berg.  Heartland fans were fired up as the Huskies would eventually tie it up at 19-19. After going back and forth Milford capitalized on a Huskie error winning the set 26-28. In the third set Milford would continue with their momentum and go on to win it 17-25.  The Milford Eagles beat the Heartland Huskies 1-2, 25-13 / 26-28 / 17-25. Stats from the game are below.
View our LIVE blog for play-by-play from these matches
Next week the Huskies are at Heartland for Homecoming week. They will host a Triangular with C-1 #2 ranked GICC and David City starting at 5pm. Then on Thursday they will host Sutton starting at 5:30pm. Â If you are unable to make these games be sure to tune into our LIVE stream on the Huskie Sports Network.
---
Heartland vs. Superior Statistics
Hitting: Kills/Attempts/Errors/Percentage:  M. Dick 6-10-0-.600, A. Kroeker 7-14-0-.500, S. Brune 5-12-3-.170, M. Janzen 2-8-1-.120
Assists: M. Huebert 9, A. Bittinger 9
Serve Receives:Â B. van den Berg 10, Â M. Janzen 9
---
Heartland vs. Milford Statistics
Hitting: Kills/Attempts/Errors/Percentage: M. Huebert 2-3-0-.670, A. Kroeker 8-17-0-.470, M. Janzen 3-6-1-.333, M. Dick 7-20-2-.250
Assists: M. Huebert 13, A. Bittinger 11
Digs:Â M. Janzen 7, M. Dick 6, S. Brune 4, S. Buller 3
Serve Receive: B. van den Berg 24, M. Janzen 11
---
[flickr-gallery mode="photoset" photoset="72157627715700223″]
Comments
comments
Powered by Facebook Comments