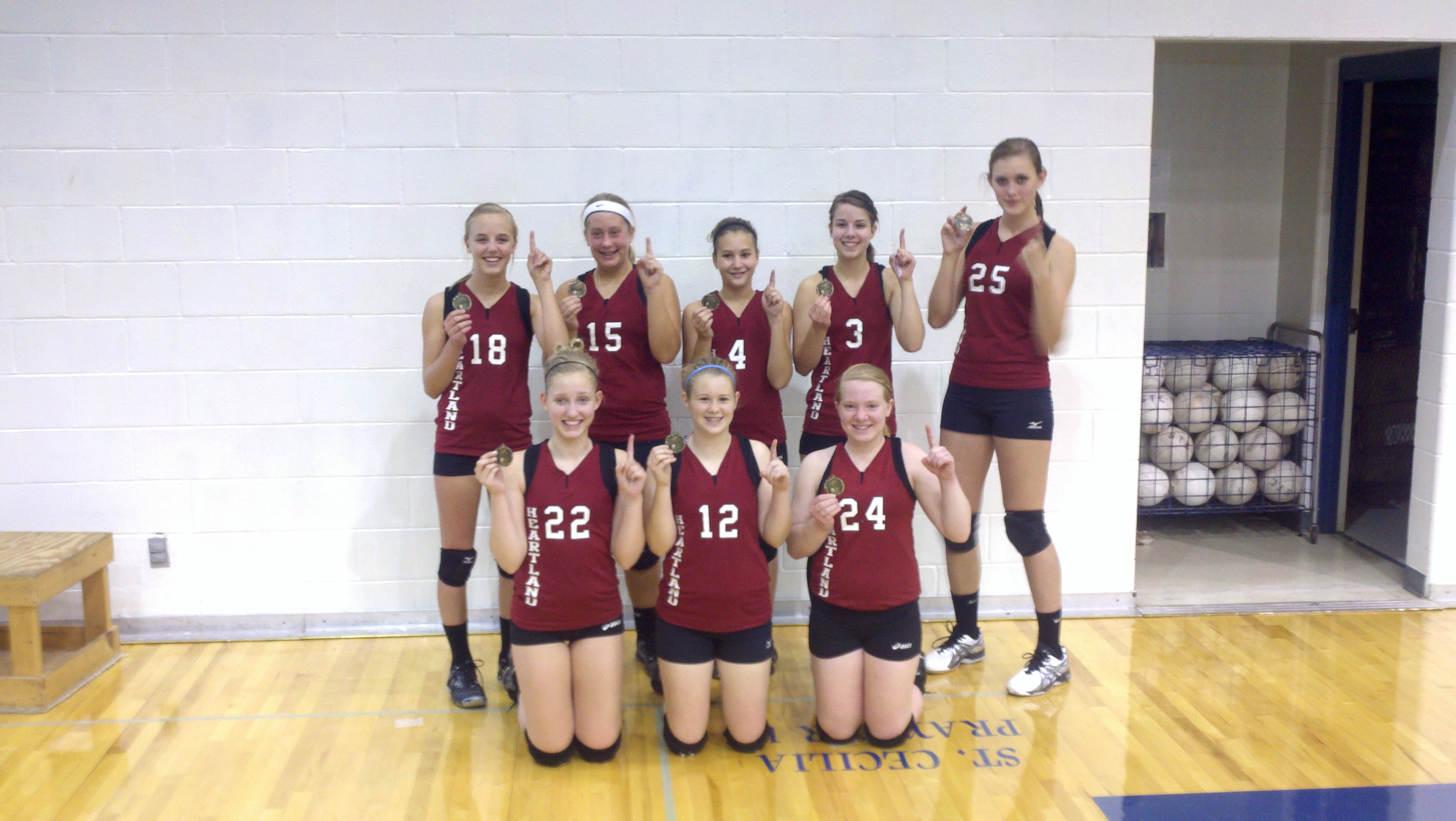 The Heartland Junior High Volleyball team have taken on their season and doing it with fine fashion. Â Seasoned Head Coach, Susan Mazour is along side first year assistant coach for Heartland, Greg Vanderneck. Â The coaches put great effort into the teams and have made much success with their 2011 squads.
The Junior High Sports program is an integral part to the student-athletes development and also helps build character and sportsmanship as well as beginning the foundation to team unity as the athletes move from junior high into high school.
This year's junior high volleyball roster includes: Haley Huebert, Camryn Dick, Katelyn Janzen, McKenna Friesen, Vanessa Hiebner, Rebekah Larson, Eve Vanderneck, Leslie Braun, Megan Kroeker, Ellie Steingard, Sidney and Shelby Hurlbut, Addie Swartzendruber, Kristine Goertzen, Kori Siebert, Bailey Ulmer and Angelica Bassett.  Student Managers are Sadie Carr, Bailey Monnier and Emma Fritz.
The 'A' team has gone 6-1 for the season thus far, beating Sandy Creek, Fillmore Central, Fullerton, St. Cecilia, Blue Hill and York St. Joe.  The only loss of the season has been to Sutton.  The Heartland 'A' team also took first at the Hastings St. Cecilia Tournament.
The 'B' team has also gone 6-1 losing only to Hastings St. Cecilia.  They also competed at the Hastings St. Cecilia Tournament where the Huskie 'B' team took third.
Coach Mazour says the team is very coachable with great work ethic, two key components to their successes so far this season.  The team gears up for the Thayer Central Tournament on Saturday, October 8th  and will have another tournament on the following Monday, October 10th at Giltner.
Photos Courtesy of Kristy Hiebner and Alan & Kim Janzen
Comments
comments
Powered by Facebook Comments