Henderson State Bank has reached another important milestone this year, celebrating its 80th year of serving its customers. Much has changed in the banking industry since 1943, when the bank was reorganized. Henderson State Bank has experienced tremendous growth since then and has three other Nebraska branches in Giltner, Greeley, and two locations in York.
"In 2006, we were at $40 million in assets, and today it's at $300 million," said HSB president Kevin Postier. "Currently, we have 34 full-time equivalent employees and feel fortunate for the many loyal longtime employees at our branches." Henderson State Bank in York has successfully partnered with York University, hiring some of their international students looking for part-time work, said Postier.
Supporting the community has always been a priority for Henderson State Bank, which is evident by their employees' community service work and scholarship program. They partnered with Southeast Community College in their "Learn to Dream" scholarship, granting tuition assistance to applicants within the Southeast district.
Other scholarships were given to 15 graduates from their various locations for assistance in paying their tuition. "We highly encourage the scholarship applicants to consider employment in a field that would benefit their community and possibly return to their hometowns," said Postier.
Postier has set a personal example for community service in Henderson, where he served for 12 years on the Henderson Health Care Hospital Board, with five of those years as chairman. "We feel it's very important to be involved in helping the local hospital expand and grow because it brings tremendous value to the community," said Postier.
Henderson State Bank's priority in their charitable giving has always been directed towards the community's youth, schools, and hospitals. "If they are successful, it contributes to the overall financial health of the community, and we want to do everything we can to support these institutions," said Postier.  
Henderson State offers all banking services, but most of its business centers on agriculture-related lending. "We assist customers in row crop production, cattle, cow/calf operations, feedlots, farmland, and commercial real estate," said Postier.
They also offer a Retirement Planning Service to help customers with retirement preparations like setting up a 401K or managing investments. Monica Milleson is a Certified Financial Planner who manages this service for Henderson State Bank.
Henderson State Bank is another one of Heartlandbeat's longtime sponsors, and their support is greatly appreciated. They are Heartlandbeat's official Sports sponsor, making sure we bring our readers the latest sports coverage and results.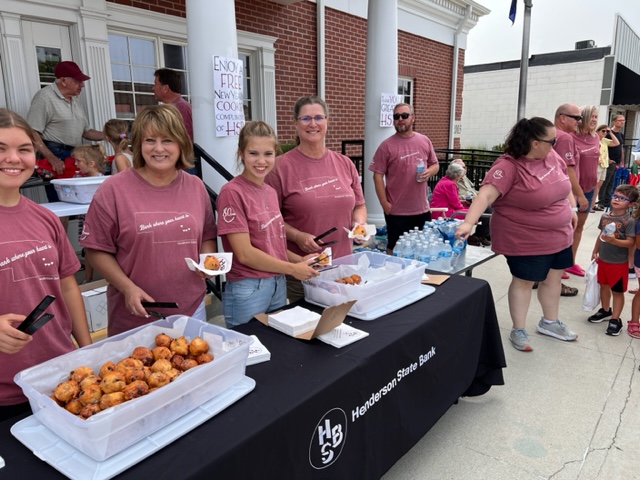 Comments
comments
Powered by Facebook Comments