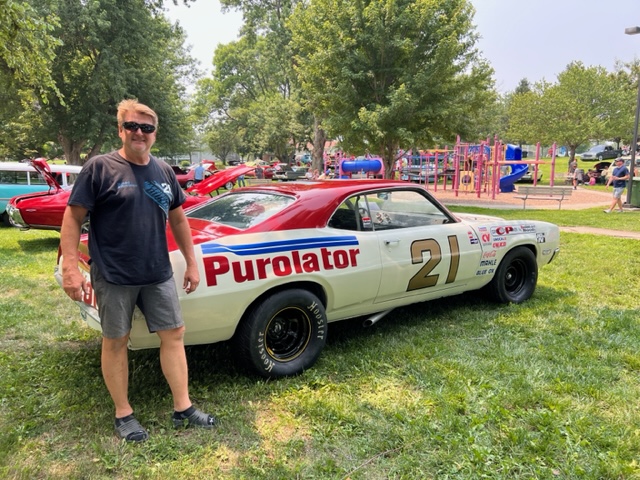 When they say racing is in your blood, it's entirely true for Marc Peters. His father, who was a racing fan, began taking Marc to Sunday afternoon weekly dirt track races at the Aurora County Fairgrounds when he was about four years old, and he was hooked!
He remembers Delmar Friesen (owner of McCool Junction Speedway) racing then and sitting under a large awning similar to the famous Darlington Raceway in South Carolina on hot summer afternoons and loving it.
"There is just something about the sound of engines roaring and the smell of racing fuel mingled with cigarette smoke and the taste of Sure Fine Rootbeer that really got me," said Peters. 
He became an avid spectator following his favorite drivers, whether on NASCAR or locally at Doniphan, like Kent Tucker and Lester and Ron Siebert. 
He had his first chance to get a taste for racing in Belleville, Kansas, at an Enduro Race driving a friend's car in 1995. It's a 200-lap or 2-hour race on a pretty muddy short track. "After my first lap, I decided this is what I'm gonna do!" said Peters. 
He learned a few things after watching his friend Lowell Hiebner in the Enduro Race. "After the 100-lap intermission, I'd noticed Hiebner had kept his car on the outside perimeter, and I'd lapped him several times. His strategy was keeping him out of trouble, but in the meantime, I got caught up in the melee on the inside, got launched into a few cars, and was stuck there for the remainder of the race," remembers Peters.  
His dream to race himself became a reality in the summer of 1996 when an opportunity to purchase a used stock car presented itself. "I got to know a driver, Jason Davis, who was pretty good, and he helped me develop my interest in changing from a spectator to a driver and located my first stock car, " said Peters.
"It was a 1973 Torino that had been through the mill. It was pretty beat-up and crude, but it had a big motor at the right price with a sign on the back that said, 'Catfish Bar, No Bar Too Far,'" said Peters.   
I immediately enlisted my dad's help to begin my racing career, and he was all in," said Peters. His parents, Myron and Janet, live on a farm near Hampton, where one of their buildings served as the shop for the new car.
He was off to the races, literally learning as he went and gleaning tips and secrets from everyone he talked to. He began racing in the middle of the season at the Doniphan track, and after his first race, he knew he'd found his passion behind the wheel.
It wasn't long until he had some success, winning his first feature in the 4th race later that summer. "I discovered the thrill of the speed racing side by side on the track and later what it felt like to be in the hunt and competitive," said Peters.
Peters remembers how quickly both his parents got hooked as well.
"One weekend, my wife Kelli had a little accident on her way out to my parent's farm to bring me some lunch as we prepped for the Saturday night race in Doniphan. It got a little chaotic, and I was ready to give up the races since it was getting late, but surprisedly, my mom stepped up and said, 'We're going! Get that car loaded!' We drug Kelli's car out of the ditch, and the race was on!" recalls Peters with a laugh. 
During his racing career, Peters worked full-time for Central Valley Ag, and he and Kelli were more than busy following their two girls, Morgan and Marli, with all their activities, but he managed to continue racing on weekends. He eventually graduated to racing in the Late Model division and bought another car, this time from Jason Humphrey.
"Fortunately, Mel Franz, owner of Henderson Motors, got involved and became my main motorman. He rebuilt the motor in my car, and it was great having a master mechanic at the track," said Peters. 
Late Model cars are lighter and faster than stock cars and require a lot of work on the chassis and fine-tuning of the shocks, according to Peters. He began racing his Late Model car at the Doniphan track and later in 2002 when McCool Junction Speedway was up and running.
Some highlights for Peters when looking back on his racing career was racing on the Circle Track Association, where he traveled around to tracks at Rising City, Thayer County, and Deshler. Each dirt track is different and can be 1/4 – 3/8 mile long. 
The proper preparation is key, making sure your springs, shocks, and tires are all in tune for each individual track. His best year was in 2012 at the Doniphan track, where he came in second in points for the season.
He retired from racing in 2020 and admits it's hard to revert back to being just a spectator, but he'll never lose his passion for the sport. 
In his spare time, he works on restoring a replica of David Pearson's 71' Mercury Cyclone. Pearson was a famed driver for the Wood Brothers on the NASCAR circuit whom Peters admired. "It's a show car that I've been able to drive as a pace car at the McCool Speedway a few times," said Peters.
His retired race car still sits in his parent's shed on the farm, where it holds plenty of memories and untold stories.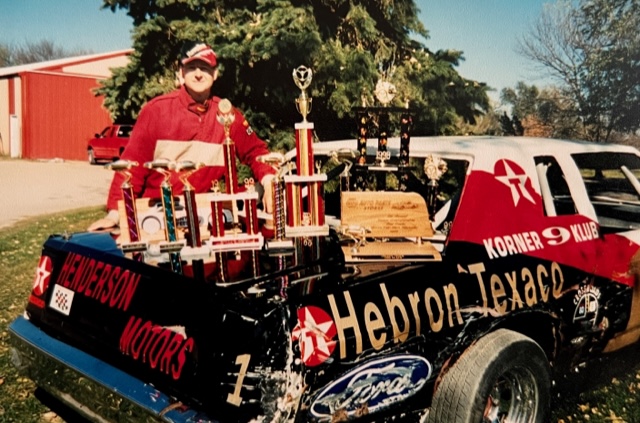 Comments
comments
Powered by Facebook Comments