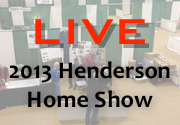 If you are unable to attend the 2013 Henderson Home Show tomorrow from 9am-2pm that's not a problem, we've got you covered. We are excited to announce that we will be broadcasting LIVE from the Home Show starting at 11:00 am.
We are excited to showcase the Henderson Home Show online through our live stream as we interview members of the community and exhibitors! Â If you aren't near a computer to catch the live stream we will also be uploading a recording of the show.
Henderson Home Show 2013 from HeartlandBeat on Vimeo.
Comments
comments
Powered by Facebook Comments