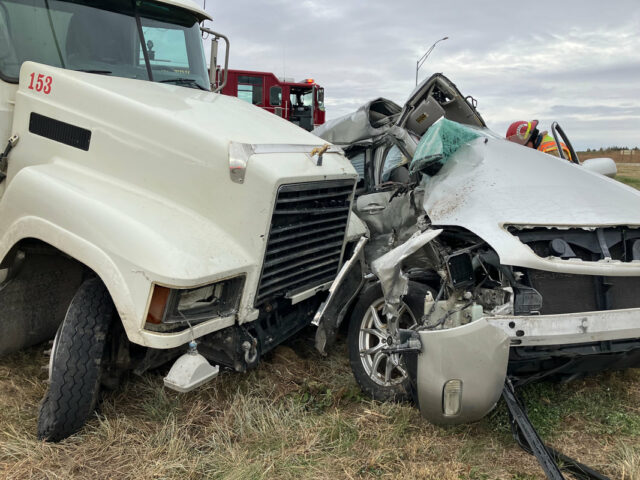 YORK — At 3:41 p.m., Friday, York County Sheriff Paul Vrbka confirmed a 33-year-old woman from Lincoln died from her injuries sustained in a two-vehicle accident at the intersection of Highway 81 and West Fourth Street, on the west side of York, which occurred shortly before 11 a.m., Friday, Nov. 3.
​Responding to the scene were the York Fire and Rescue Department and the York County Sheriff's Department.
York County Sheriff Captain Josh Gillespie said at the scene an industrial truck pulling a trailer was northbound on Highway 81 when a small, silver car started to cross the highway and they collided.
York Fire Chief Tony Bestwick said at the scene, the driver of the car sustained "very life-threatening injuries," and a medical helicopter was on its way to York to make transport. The driver had been taken by ambulance to York General Hospital, where the helicopter would be landing.
Sheriff Vrbka confirmed later that Sophie Truax, the driver of the car, was flown by helicopter to a Lincoln hospital but was pronounced dead at that hospital.
"She did not stop at the stop sign and was subsequently hit by the northbound truck," Sheriff Vrbka said. "The first of kin, her family, has been notified."
The driver of the truck was taken by ambulance to the local hospital but it did not appear the person sustained life-threatening injuries. Sheriff Vrbka said the driver of the truck had injuries to his head and it was recommended he have medical attention. "I felt that he should be checked out so we can make sure he didn't sustain worse injuries than it appeared."
The accident remains under investigation.