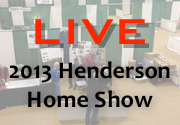 If you are unable to attend the 2013 Henderson Home Show tomorrow from 9am-2pm that's not a problem, we've got you covered. We are...

We took a little bit of time off but we're back with the Weekly (Monthly) Report! Thanks to Daniel Quiring for his great work...

Here is the Weekly Report for this week. Top 3 posts from last week and our HSN update! http://assets.delvenetworks.com/player/embed.jshttp://assets.delvenetworks.com/player/loader.swfLimelightPlayerUtil.initEmbed('limelight_player_289943');

[vimeo 60109702 w=640 h=360] Daniel Quiring with this week's Weekly Report!

Tune in to watch the Weekly Report this week (February 4th) with Daniel Quiring. http://assets.delvenetworks.com/player/embed.jshttp://assets.delvenetworks.com/player/loader.swf//