We took a little bit of time off but we're back with the Weekly (Monthly) Report! Thanks to Daniel Quiring for his great work...

Tune in for the Weekly Report with Daniel Quiring recorded from Heartland Community School New Gym. http://assets.delvenetworks.com/player/embed.jshttp://assets.delvenetworks.com/player/loader.swfLimelightPlayerUtil.initEmbed('limelight_player_196155');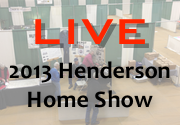 If you are unable to attend the 2013 Henderson Home Show tomorrow from 9am-2pm that's not a problem, we've got you covered. We are...

Tune in to watch the Weekly Report this week (February 4th) with Daniel Quiring. http://assets.delvenetworks.com/player/embed.jshttp://assets.delvenetworks.com/player/loader.swf//

Here is the Weekly Report for this week. Top 3 posts from last week and our HSN update! http://assets.delvenetworks.com/player/embed.jshttp://assets.delvenetworks.com/player/loader.swfLimelightPlayerUtil.initEmbed('limelight_player_289943');