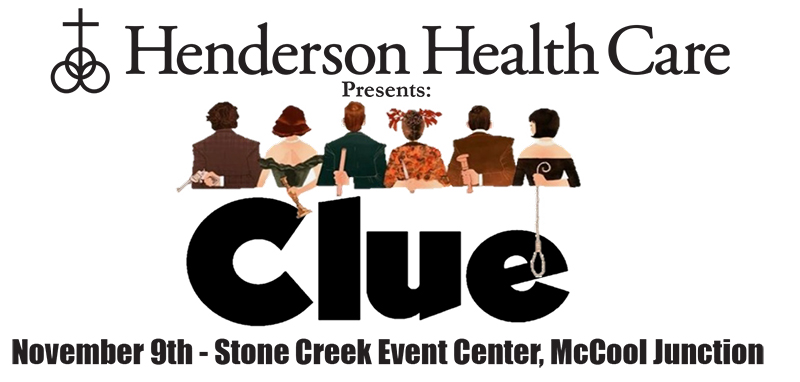 Was it Miss Scarlet in the Billard Room with the revolver? Or was it Colonel Mustard in the Library with the lead pipe? Help solve the mystery of who murdered Mr. Boddy from the famous board game "Clue" in a "Clue Mystery Dinner" on November 9 at Stone Creek Event Center in McCool Junction.
This Dinner, complete with entertainment, silent auctions and prizes is a fundraiser for Henderson Health Care's new long-term care facility, Legacy Square. Approximately $900,000 of the $1 million fundraising goal has been raised over the past 20 months. It is hoped that this exciting event will help to close the gap.
The evening begins at 6:00 with cocktails. The "Clue Mystery Dinner" will follow at 6:30 pm. A troupe of professional actors will portray your favorite board game characters in this fast paced comedy "whodunit." Listen closely and make calculated decisions and you may win the grand prize: a 3-night stay in beautiful Mesa, Arizona including airfare and Airbnb accommodations (must be 21 to win the grand prize). Both a silent and a live auction of items generously donated by local and area businesses will take place throughout the evening. A 60" Hustler mower and a helicopter flight to Lazy Horse Vineyard in Ohiowa, Nebraska, are just two of great items to be auctioned.
Legacy Square, located adjacent to the hospital and clinic in Henderson opened in July, 2019. This care facility includes 40 beds in 38 rooms, two dining rooms, a beautiful activity center and living rooms, a hair salon, spa, a restorative suite, and much more. Families can reserve a private dining room for family dinners with their loved ones. Residents enjoy large windows and a beautiful enclosed courtyard for viewing or touring. As many Nebraska towns close their long term care facilities, Henderson is lucky to have the support of its community to be able not only to retain their facility, but to build a new, modern one. It is said to be one of the very best in South Central Nebraska, perhaps in all of Nebraska. A waiting list for Legacy Square has already begun. Your attendance at this fundraiser and generous gifts continue to make Legacy Square and other services at Henderson Heath Care a reality.
To purchase tickets for the "Clue Mystery Dinner," visit any of the following locations: Henderson Family Care Clinic, Sutton Family Practice, Astra Bank in Sutton. Cornerstone Bank in Henderson, McCool and Sutton, Henderson State Bank in Henderson, or online at http://hendersonhealthcare.org. You can also reserve a table of eight to sit with friends or family. Tickets will be sold through November 9 or until no longer available.
Stone Creek Event Center is located at 629 N. 1st Ave in McCool Junction, Nebraska.
Comments
comments
Powered by Facebook Comments