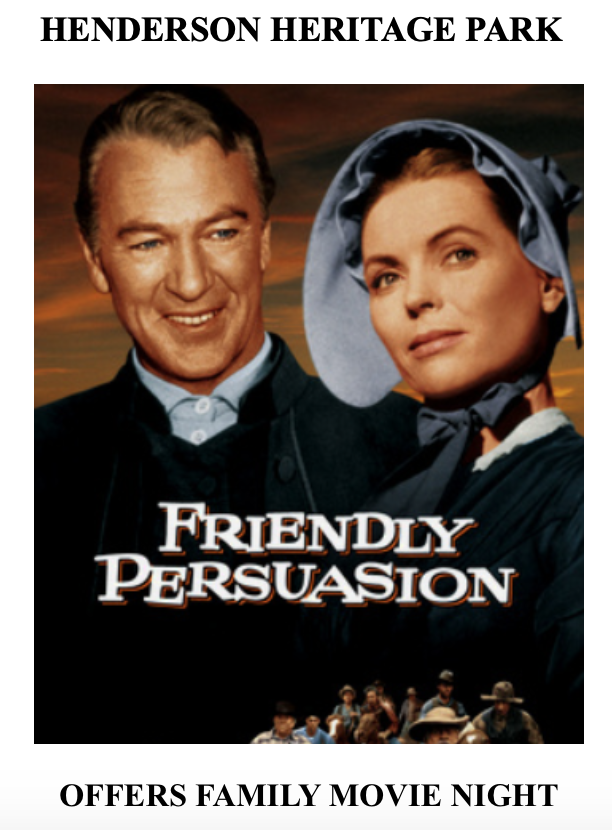 This Sunday evening, Henderson Heritage Park is offering a night out at the movies, and a chance to experience a large-screen viewing of the well-known movie Friendly Persuasion.  Thanks to the generosity of Heartland Community Schools, this movie will be shown in the school theater on Sunday, July 28, at 6:30 p.m. with Heritage Park committee members as hosts.  Interlaced with a great deal of humor and some thought-provoking moments, this award-winning movie is for all ages.  Everyone will be entertained.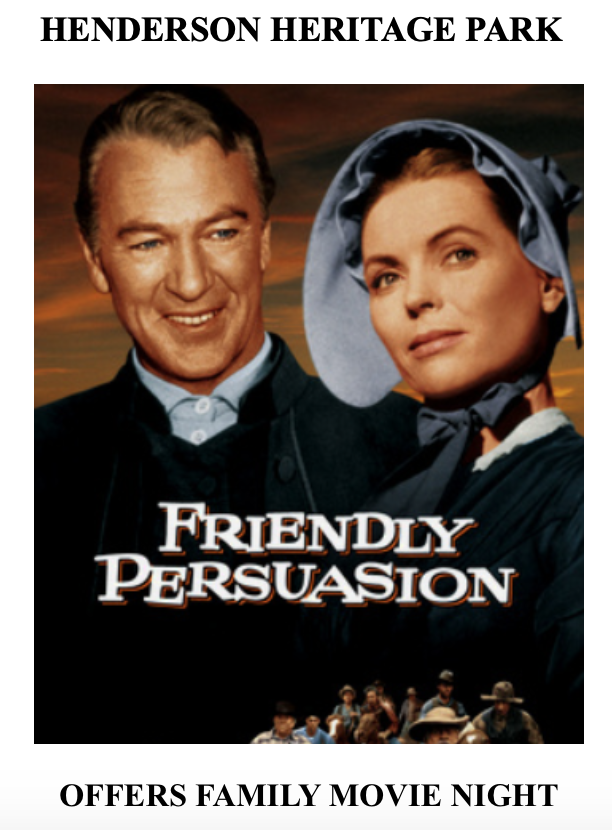 Based on a novel by Jessamyn West, Friendly Persuasion stars Gary Cooper and Dorothy McGuire and tells the story of a peace-minded Quaker family living their simple lives in Southern Indiana during the early days of the Civil War. Their pacifist beliefs and everyday lives are tested when Confederates draw near.
This 1956 film became a footnote to world history in the 1980s when President Ronald Reagan gave this film to Soviet leader Mikhail Gorbachev. President Regan suggested that he view the film as a way to find an alternative to war and resolve differences between people. This event coincides with the WWI Conscientious Objectors traveling exhibit, The Voices of Conscience: Peace Witness in the Great War, now on display at the Heritage Park.
Everyone is welcome to come to the Heartland Community School theater on Sunday, July 21, at 6:30 p.m. and enjoy this special event. Friendly Persuasion is a wonderful movie for all ages, offering a great deal of laughter and a few moments of tears, so let's make this an event to remember.  Run time for the movie is 137 minutes.  At the conclusion of the movie, a cookie social will follow.  Admission is free, although donations will be accepted.  This movie is a companion to the Voices of Conscience traveling exhibit at the Henderson Mennonite Heritage Museum and Park this summer.  Funding for the exhibit is provided by Humanities Nebraska.  Funding for publicity is provided by York County Visitors' Bureau.  
Comments
comments
Powered by Facebook Comments