Written by the Heartland Journalism Students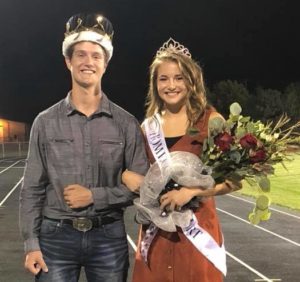 The Huskies homecoming week was one for the books. The theme for Homecoming this year was "Coast to Coast," and the week was filled with activities.
The week began on Monday with a pep rally to kick of the homecoming festivities. Representatives from each high school class participated in physical and trivia challenges, and the entire school sang out the school song before heading back to classes. In the evening, the students got together for food and games.
On Monday, the golf team also participated in a meet, with Elizabeth Mestl taking home the gold medal and earning 1st place.
On Tuesday, the volleyball team took to the courts for a home game against Fillmore Central, falling to the Panthers in three sets.
On Thursday, the volleyball team hit the road, traveling to Cross County. This time, the Huskies held nothing back and came away with the victory over the Cougars.
On Friday, the junior high band led the homecoming parade. Also marching in the parade were the sports teams, the royalty candidates, and several community participants. At the conclusion of the parade, the student body headed back to the auditorium for an afternoon of entertainment through the school song and dance competitions.
Friday night, the Huskies took the field by storm. The unrelenting Huskies scored 66 points over Nebraska Lutheran, earning their first victory of the season.
Following the game, the candidates for Homecoming court were announced, and Ric Bulin and Olivia Casper were given the honor of King and Queen. The high school students then had the opportunity to make their way to the old gym for pizza and dancing.
Next week will be another busy one. Girls golf is back in action on Tuesday. The volleyball team plays Monday (reserve and jv) at home, Tuesday (reserve, jv, and varsity) at Hampton, Thursday (reserve, jv, and varsity) at McCool, and Saturday (separate jv and varsity tournaments). The football team plays Palmer at home on Friday.
Comments
comments
Powered by Facebook Comments