The One Call Board of Nebraska recently invited elementary age students and youth organization members to travel on a magical and educational journey while teaching them the importance of underground utility services and the dangers of unsafe digging practices.
Utilizing a fun and educational DVD combined with a comprehensive Teacher's Resource Guide developed by the Common Ground Alliance*, educators took the opportunity to explain the necessity of the underground utilities we use every day.  The "Call Before You Dig" message was carried throughout the lesson explaining the importance of using safe digging practices along with the associated dangers of damaging an underground utility, such as the loss of key services like 911, electricity, internet and heating/air conditioning.
To conclude the educational segment, students were encouraged to create posters highlighting safe digging and "811" – the National "Call Before You Dig" telephone number.  Several of these posters were randomly selected and used in various promotional venues including flyers, websites and billboards across the State of Nebraska.  In addition, 6 individual classes that participated in the Safe Digging Pirate Adventure were randomly selected to receive a complimentary bench, commemorative plaque and a tree for their school, along with a cookie party to celebrate their knowledge of the importance to "Call Before You Dig".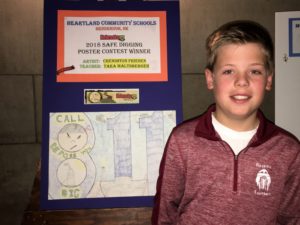 Creighton Friesen from Heartland Community Schools was named as one of the contest winners and thus, he and his classmates were recognized in this special way Wednesday, May 2nd.  The One Call Board of Directors presented the school with their chosen tree, complimentary park bench, and a commemorative plaque.  Creighton also participated in the Governor's proclamation at the capitol building in Lincoln on April 2nd.
Comments
comments
Powered by Facebook Comments