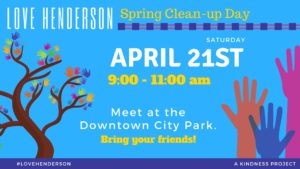 The Henderson MB Church will be sponsoring a Community Spring Clean-up Day on Saturday, April 21, and would like community members to join in. Anyone who is interested in helping can meet at the downtown city park picnic shelter at 9:00 a.m. Laura Jost is the contact for this event and will be organizing teams, distributing tools, and giving instructions. She has been in contact with Connie Brown at City Hall about projects that need completing and areas that need freshening up. Some plans involve pruning and cleaning up downtown flower beds, and working at the parks and ballfields to get ready for warmer weather outdoor activities. Those who wish to participate should feel free to bring their own gloves, garden tools, 5-gallon buckets, and other items for working outdoors. There will be supplies available provided by MB Church and the city of Henderson for those who do not bring their own.
"We want to bring community members together and work as a team for a common purpose that will benefit everyone in the community," responded Laura Jost when asked about her vision for this event. Their hope is to have families participate together and see this as an opportunity to talk about serving others and taking care of the community we live in. They are anticipating the work will take about 2 hours and will be done around 11:00 a.m. so everyone will have time to have lunch with their families and enjoy the rest of their weekend plans.
This community clean-up event is part of a new initiative the Henderson MB Church has adopted as part of their outreach ministry called "Love Henderson". This initiative seeks to find tangible ways to show love to the community and its residents. The Henderson MB Church launched the "Love Henderson" kindness project at the Community Easter Egg Hunt on March 30 by providing water, coffee, and soda to parents while their kids participated in the city recreation department organized event. It is their hope that there will be many more "Love Henderson" events and opportunities to show kindness in the future.
Comments
comments
Powered by Facebook Comments