The 2018 Henderson Home Show is this Saturday, February 24, from 9:00 a.m. to 2:00 p.m. This year the Home Show will once again be held in the Heartland High School north gym.
We have a large number of local vendors and vendors traveling to Henderson for the event. You can anticipate seeing:
Air 1 Cleaning
Balabans
Bethesda Preschool
Bristol Windows
Cornerstone Bank
Critel Enterprises
Easy Lawn
Friesen Landscaping
Heartland Community Schools
Henderson Child Development Center
Henderson FoodMart
Henderson Foundation
Henderson Health Care Services
Henderson Heating & Air/York Heating & Air
Henderson Heritage Museum & Park
Henderson Irrigation
Henderson State Bank
Hiebner Body Shop
Husker Crop Solutions
Initials, Inc. – Linnea Williamsen
JH Carpentry & Renovations
LuLaRoe- Rhonda
Mainstay Communications
Max Country / KOOL Radio
Nature's Best Carpet Cleaning
Norwex – Janell Manhart
Nunnenkamp Electric
Origami Owl- Marie Mason
Pampered Chef – Christina Dose
Perennial Public Power
Perfectly Posh – Reesa Real
Pink Zebra – Ann Lammers
Progressive Chiropractic
Ratzlaff Farms
Rock Turf Concepts/RTC LIghting
Signature HomeStyles – Kerri Wetovick
Sutton Christian School
Teckmeyer Financial Services
Thirty-One – Heather Nunnenkamp
Tupperware – Stefanie Johnson
Usborne Books – Sarah Nunnenkamp
Young Living – Amanda Ring
Wanda's Kitchen
Various types of food will also be available for purchase throughout the day. From 7:30-9:00 a.m. there will be an all-you-can-eat pancake feed to raise money for Henderson Health Care Services through the Henderson Health Care Foundation in the cafeteria for a freewill donation. There will be a variety of items for sale for lunch provided by Henderson Foodmart, and the Jr. Auxiliary will be selling homemade ice cream.
In addition to vendors and food, there will also be some new activities taking place during the Home Show this year. Activities include:

In booth free activities for kids throughout the morning 

Heartland Robotics Team Demonstrations at 10 am and 11 am

Antique Appraiser Tom Basset from 12 pm – 2 pm – Bring one item to appraise for free

Nebraska Community Blood Bank Blood Drive – Front Circle Drive from 9 am – 2 pm. 
We hope to see you at the Home Show on February 24 from 9:00 a.m. – 2:00 p.m. at Heartland Community Schools!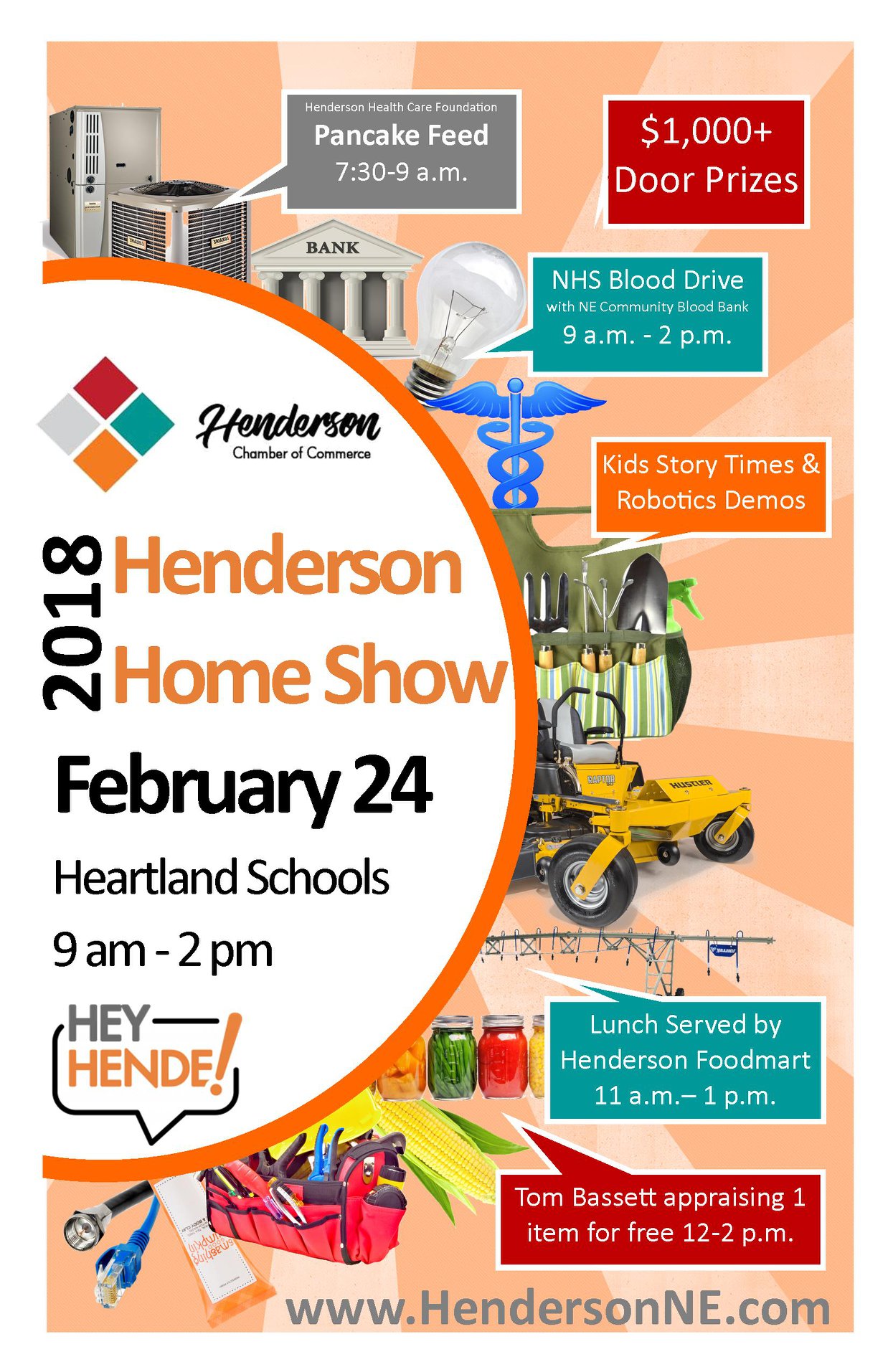 Comments
comments
Powered by Facebook Comments