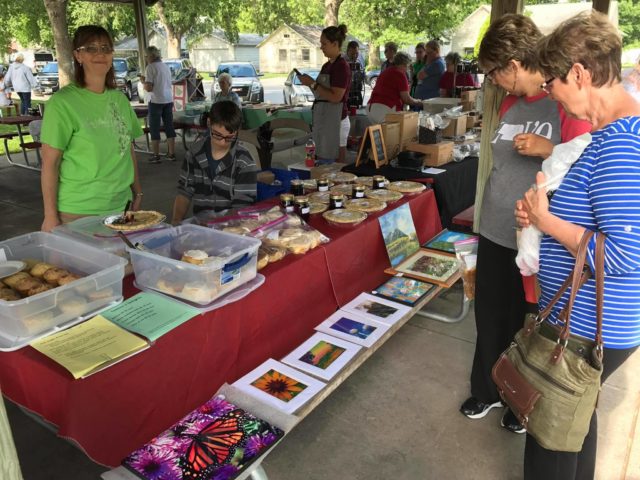 The 2017 Henderson Farmers Market is off to a great start on Tuesday evenings this summer from 5 to 7 p.m. in the Henderson Downtown Park.
This summer, there will be various vendors selling a variety of homemade and homegrown products. As different produce comes into season, the items sold and the vendors at the Farmers Market will change. As a result, a Facebook page has been created for "Henderson NE Farmers Market" to keep you up-to-date on items that will be available and which vendors will be set up each week. If you are a member of Facebook, be sure to "like" the Henderson NE Farmers Market page to get updates about the farmers market in your newsfeed. 
Vendors registered for this summer include:
TwoBakers – Jill Weisheit

Ethnic Foods: Prieska, New Years Cookies, Verenika Meals, Schnetya, Zwieback, Potato Salad

Pampered Chef – Christina Dose
Balabans – Dorothy Balaban

Rhubarb, asparagus, eggs, jams, jellies, noodles, canned goods.

Luke Fochtman
Thompson Family Farms – Deb Thompson
HomeMade Patch Works

Table runners, child's tea sets, place mats, napkins, coasters, silverware

Debbie Rowe

Pastries, breads, pies, garden produce, jellies, photography/art  

Usborne Books – Sarah Nunnenkamp
Scentsy – Jill Kaczor

Warmers and Fragrances for the home.

Nebraska Coffee Company
The 2017 Farmers Market season began on June 6 and will last until August 15, with different groups serving the meal each week. 
2017 Meal Schedule
June 13 – Henderson Foundation

Slivered Pork Sandwiches, watermelon and bars. 

June 20 – Ball field Concession Stand

Note: Location Change to LakeView Park Picnic Shelter

June 27 – HHC Jr. Auxiliary

Walking Tacos, Frozen Fruit Cup, Drink

July 4 – No Farmers Market for Independence Day
July 11 – Heartland FFA
July 18 – Bethesda Preschool
July 25 – Fired Up Pizza Company
August 1 – Heartland FFA
August 8 – Fired Up Pizza Company
August 15 – Henderson Child Development Center
For More information visit www.HendersonNE.com.  If you are interested in selling homemade and homegrown products during Henderson Farmers Markets contact the Henderson Chamber of Commerce for a vendor packet by calling (402) 723-4228 or emailing, hchamber@mainstaycomm.net.
Comments
comments
Powered by Facebook Comments