Sophomore Taylor Quiring has been nominated as the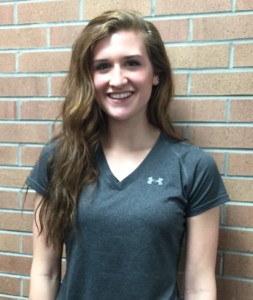 Heartland Beat Student of the Month by Heartland Spanish teacher Ms. Jillian Schernikau. "Taylor has a constant consistency towards success. Every single day, regardless of the circumstances, she always puts forth a tremendous amount of effort and has a positive attitude towards success, learning, and achievement," said Schernikau. 
She is involved in a wide range of school activities including band, chorus, FFA, and most recently she was inducted into National Honor Society. This summer she was chosen to attend NLS (Nebraska Leadership Seminar) where she will spend time learning leadership skills.
Besides her studies and school activities, Quring is a three sport athlete competing in volleyball, basketball, and track. "Our basketball season was a highlight for me this year because of the great team atmosphere we enjoyed," said Quiring. Although college is still a few years away, she is hoping to play collegiate volleyball and maybe compete in track. She also competes in South Central Club Volleyball traveling to matches on weekends during the year.
"Her work ethic is one of her most admirable qualities and something that inspires me both personally and professionally," said Schernikau. Her summers are indicative of that work ethic as well. When she is not working at the Henderson Aquatic Center as a lifeguard, she will be attending several team sport camps, traveling to Yellowstone for a CRC camp, and helping out around the family farm. 
Ms. Schernikau has especially enjoyed watching Taylor's competitive edge transfer to the classroom improving as an individual. Congratulations to Taylor Quiring for exhibiting such fine qualities of a student/athlete at Heartland! 
Written by Shannon Siebert
Comments
comments
Powered by Facebook Comments