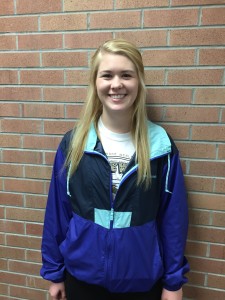 Senior McKenna Friesen was chosen for Student of the Month by Heartland Spanish teacher Jillian Schernikau. "She is going above and beyond in her Spanish III course. Her flexibility, adaptability, and self-motivating qualities have been more than impressive," said Schernikau. 
It was Friesen's idea to take Spanish III as an independent study class, and she has made the most of the opportunity.  Collaborating with Schnernikau, she is helping produce a web-based Spanish language course as part of her independent study. 
"I've always known that I wanted to be an elementary teacher," said Friesen. And according to Schernikau, "She is more than prepared for college both academically and emotionally." She plans on attending the University of Omaha next year and is very excited about her choice.   
While at Heartland, she has participated in volleyball, FBLA, band, chorus, Math Club, NHS, and Quiz Bowl competition. Before becoming active in high school sports, she was an avid softball player and still stays involved by coaching in the summer. She also works part-time at the Henderson Cornerstone Bank during the summer.
"Ms. Schernikau has been a big part of my senior year, and I really look up to her," said Friesen. She plans on pursuing a minor in Spanish along with her elementary education major while at UNO. Congratulation to McKenna Friesen for being nominated as this month's Heartland Beat Student of the Month!   
Written by Shannon Siebert
Comments
comments
Powered by Facebook Comments