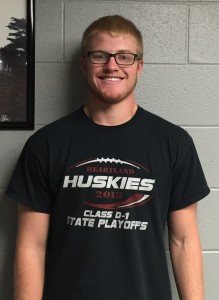 Senior Clay Bergen has been nominated as the October Heartland Beat Student of the Month by Heartland football coach Matt Maltsberger. "Clay truly epitomizes what it means to be a student athlete at Heartland Community Schools. He excels in the classroom maintaining a cumulative 3.8 GPA, while dedicating himself to three sports as well as band," said Maltsberger.
Like many student athletes, it hasn't always been an easy road. "I had some knee problems my freshman year and again my junior year that sidelined me from playing football and basketball for awhile," said Bergen. The knee is good now and Bergen has really enjoyed playing tight end and defensive end for the Huskies. "Coach Maltsberger has really helped me as a coach with his knowledge and ability to put me in the right place. I hope I can eventually play college football," said Bergen.
Exhibiting "high character" is also on Coach Maltsberger's list when he describes why he nominated Bergen as student of the month. "Clay does things the 'Huskie way' (right way) and he is a role model to young Huskies at Heartland through his actions and willingness to serve. I've never heard him complain or judge others and that speaks volumes for who Clay is as a young man," said Maltsberger.
Coach Maltsberger likes Bergen's "humble and workman like attitude" in everything he does. Bergen's summers have been filled with weight lifting and attending sports camps to make himself a better athlete. He also works part time at his grandfather's construction firm where he has learned some very valuable work skills. 
Given his accomplishments and personality, it's not surprising that Bergen was recently crowned Homecoming King. Congratulations to Bergen for being chosen as this month's Heartland Beat Student of the Month! 
Written by Shannon Siebert
Comments
comments
Powered by Facebook Comments