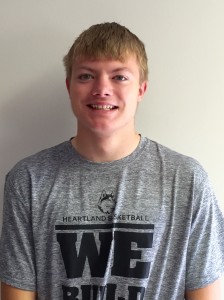 Heartland senior Tyler Brown was nominated as the Heartland Beat Student of the Month. As a member of the Class of 2015, he has much to be proud of including making it to state in football, basketball, and track. In addition, Tyler qualified for FBLA Nationals in the Marketing Team division with Colton Siebert. They will travel with other Heartland qualifiers to Chicago in June.
"It's been fun playing with my teammates through high school and going to state," said Brown. But his journey has not always been easy. He suffered his first concussion his sophomore year during the Shelby/Rising City football game when his head was slammed into the ground. He endured a few months of headaches, blurred vision and light sensitivity that made it hard to read and study as well. "My teachers were very helpful during this difficult time," said Brown.
He was able to play the last two football games of the season but in January during a basketball game he suffered another hit to the head resulting in his second concussion. He missed the rest of basketball season but was able to participate in track. "I was just hoping I'd get better," said Brown.
"Tyler is one of those students that takes care of what he needs to do, all without the need for attention or fanfare. He is pleasant, works hard, and is a leveling force within group settings. This 'go with the flow' approach serves him well and he is an excellent example for others around him," said Heartland Superintendent Brad Best.
Besides high school sports, Brown has always played summer baseball. This year he is playing for the York Senior Legion team as a pitcher and shortstop. This will be his fifth summer to work at Mycogen Seeds where he has worked his way up to crew leader. He lives in Henderson with his parents Bob and Connie Brown and is the second oldest of their four children.
Brown will be attending Wayne State College in the fall where he will major in Business Administration with a concentration in accounting. "Mrs. Most was my business teacher and FBLA sponsor, and she had the most influence on me. I spent half the day in her class my senior year and really had a lot of fun," said Brown.
Brown thoroughly enjoyed his final moments with all of his teammates and the community support they received. His accomplishments and perseverance during adversity are commendable. Congratulations to Tyler Brown for being chosen as the Heartland Beat Student of the Month!
Written by Shannon Siebert
Comments
comments
Powered by Facebook Comments