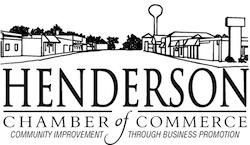 The 2015 Celebrate Henderson Chamber Banquet is next week, on Monday, January 26, at 6:30 p.m. at the MB Church. You have until Friday to purchase tickets from the Chamber office for this great community event. Our banquet sponsors this year include: Cornerstone Bank and Kroeker & Kroeker Insurance and Real Estate.
New this year as part of the banquet will be a silent auction feature a number of great items. Auction items include: a decor item from Baer's Furniture, a two-tool drill kit combo from Custom Wood Products, neon Husker sign from Eakes Office Supply, a round of golf from Galaway Creek Golf Course, a family activities pass for 2015-2016 from Heartland Community Schools, a pizza party from Henderson FoodMart, a certificate for a manicure and pedicure from The Headquarters, a gift certificate to Kerry's Restaurant, a necklace from KVK Jewelry Design, pizza from Pizza Hut, Cinnamon Rolls from Stacy Lynn's Baking Company, memorabilia from the York Chamber, farm toys from York Equipment, tickets to Wessels Living History Farm, a decorative bowl from Willow Station, and a half hour massage from Still Waters Massage & Wellness,
Those attending the banquet will also have the privilege to listen to Mike Ayars from Ayars & Ayars, on the topic: Why Economic Development is Important. Various awards will also be presented during the banquet, including the Friend of Henderson Award and Business Milestone Awards.
Any business that reached a milestone last year in 2014 can be recognized at the banquet if they contact the Chamber Office prior to the event. Businesses do not need to be Chamber members in order to be recognized, but they do need to serve the Henderson area. Milestone awards will be presented in five year increments.
This banquet is open to anyone who is interested in attending from community members to business owners, but all tickets must be purchased at the Chamber Office ahead of time.
Contact the Henderson Chamber of Commerce at City Hall, by calling 723-4228 or emailing hchamber@mainstaycomm.net, to purchase your tickets for the 2015 Celebrate Henderson Chamber Banquet on Monday, January 26, 2015, at the Mennonite Brethren Church. Tickets cannot be purchased at the door.
The Henderson Chamber of Commerce is a nonprofit organization working toward community improvement through business promotion.
Comments
comments
Powered by Facebook Comments