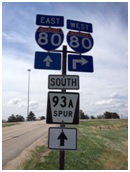 Editorial by Shannon Siebert, Heartland Beat Staff Contributer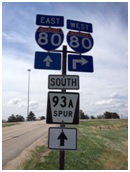 Henderson's Exit #342 is one of more than 50 exits on the I-80 Interstate that spans the state of Nebraska. In 1965, when Exit #342 was completed, it was a considered an advantage for a town to be located so close to the I-80 corridor. Having an exit nearby meant new economic opportunities would arise, and such close proximity would be a boon for the city of Henderson.
But nearly 50 years later, Exit #342 has lost much of its original promise and luster. Today it would be fair to call much of the southeast side not only an eyesore but a breeding ground for crime that has tarnished Henderson's reputation.
There are three viable businesses operating on the south side of the interchange— Hy-way Trailer, Henderson Truck Stop, and Subway. On the north side, the original KOA campground still operates as Prairie Oasis Campground. But the scope of this editorial is to examine the south side of Exit #342 and what has gone so terribly wrong.
Exit #342 History
Before the ambitious Eisenhower Interstate System was even imagined, this area was called Doell's corner. It was John R. Doell's vision that jump-started the Henderson Exit back in its early days. He and his wife Melinda (Epp) Doell lived in the house where her parents, Peter and Margaret Epp, had lived on the corner of the spur and Road 9. Remnants of the original Doell farmstead are still visible just south of the motel property, and his daughter, Jean Cox, and her husband, Larry, have lived on the east side of the property since 1973.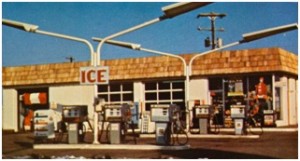 John R. Doell built the original Standard Gas Station and restaurant shortly after the interchange was finished. He kept possession of the building but brothers Elroy and Ken Bergen took over the Standard lease in 1967 and operated the station. In 1972, it was sold to Aldex Inc., owned and operated by Aldon and Dexter Friesen.
John R. Doell's son, Homer Doell, and wife, Elaine, ran the restaurant for the first years, and it was appropriately called Dell's Cafe. It soon became a popular sit down eating place for locals as well as travelers stopping by. Then it was common to hear locals say, "Let's go out to Dell's," to enjoy morning coffee, lunch, dinner, or a Sunday buffet that included Henderson's ethnic specialty of verenika.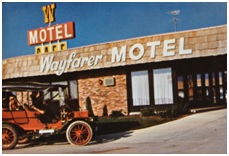 Doell then started the construction of the original Wayfarer Motel and sold it to Jack Perrin in 1971 who finished it and purchased the restaurant as well. Andy and Linda Goebel bought the restaurant and motel in 1972 and made many upgrades. The motel was called Wayfarer II and operated as a Best Western franchise. They added several rooms as well as a spacious three-bedroom living area to the south for their family to occupy. Exit #342 was making a positive economic impact providing needed services and creating jobs with reputable and accountable ownership.
Across the road there was new economic activity as well. In 1979, three enterprising locals, Bill Bamesberger, Albert Hiebner, and Case Vanderhart, saw an opportunity for yet another business at the interchange— Hy-way Trailer. Their building was completed in 1980, and they began a successful business of servicing semi trailers. It still operates today at the same site owned by Dennis Regier and Randy Wilhelm. Right next door another gas station was built and for many years it was known as the Henderson Fuel Mart. Today it is called Henderson Truck Stop providing fuel along with a small convenience store.
Later Carl Buller built the Wear Western building (a western wear retail business) south of the Fuel Mart. After changes in ownership, the building was being used to house the Twice as Nice consignment store when it burned in September of 2009. After the fire, the burned building was purchased by the owners of the Fuel Mart, and the county threatened to take legal action if the eyesore was not cleaned up. The site was eventually razed by the owners Advance Realty Investments from Pleasant Prairie, Wisconsin.
Steady Decline
In the mid 80's, the Goebels decided to sell the restaurant and motel, and it wasn't long before the new owners had shed the Best Western franchise. This started the slow decline of the property, and with each successive owner the once thriving business deteriorated greatly.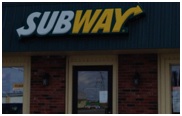 Fortunately, the restaurant was resurrected by Corey Overturf from Sutton who remodeled it into a Subway franchise in 2007. It features a large dining area and a nice place for locals to have Goodrich ice cream and coffee. This is the one remaining bright spot on that side of the exit, but it certainly has not been helped by its adjoining neighbors.
With each successive owner of the motel over the years, its condition has only worsened. In 2010, the owners, John and Rachel Pinkerton, applied for a special zoning exception to turn the motel into an assisted living facility for mentally ill individuals. Locally there was a large outcry against this zoning change, and it was denied by the York County Commissioners. "What they intended to do certainly was not conducive to commerce at the I-80 interchange," said York County Commissioner Bill Bamesberger.
Despite this ruling, the Pinkertons circumvented it by outwardly operating the property as if it were a motel. In reality they were renting the rooms long-term to a variety of disabled individuals just like they did in the properties they ran at other locations in Nebraska. And over the course of time, many of the concerns that were brought up at the hearing actually became a reality. As if this wasn't bad enough, in 2010, the operator of the motel, Kaushick Kumar (Kevin) Patel, was accused of felony theft in Fillmore County. He had allegedly stolen numerous items from a motel in Geneva that he formerly operated and brought them to the Sun Motel.
Here is a case where York County's zoning laws were not adequate or strong enough to prevent the establishment of a business that was a ticking time bomb. Eventually serious crimes would be committed by residents of the so-called Sun Motel involving burglaries, drugs, felonies, and misdemeanor crimes. The most recent criminal activity involved a woman accused of selling methamphetamine at the motel, and her case is set to go to trial in June.
The inability of the county to shut down the motel became a chronic headache for both the local police and York County Sheriff. Milan Mierau, Henderson's local policeman, estimates he answered hundreds of calls concerning fights, domestic disputes, shoplifting, and alcohol abuse in the past four years from the interchange. But according to Mierau, a larger number of the calls he answered were drug related. This high number of calls does not even include those answered by the York County Sheriff's department.
What Happened to the Standard Gas Station?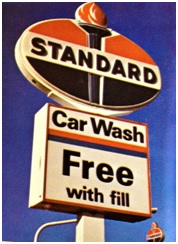 Competition and environmental issues having to do with EPA orders to remove the underground fuel tanks at the old Standard Station were part of the reason for its eventual closing. It had mostly sat empty and was sold several times until it landed in the hands of Pavel Kisliyak. This was a big mistake. He supposedly was operating some sort of automobile business and took up residence in the station that was not hooked up to any utilities.
Soon after purchasing the property, he began displaying very bizarre behavior, painted graffiti on the building and barricaded the perimeter of the parking lot with unsightly gravel piles. On numerous occasions, he had been seen throwing rocks at passing vehicles and ranting at patrons of the Subway adjoining his property. Twice he was escorted out of the York County Courthouse for suspicious behavior.
In June of 2011, his public behavior turned from bizarre to threatening during an incident when he was witnessed driving his car naked at a reckless high speed at the interchange while yelling threats and obscenities. Thankfully he was eventually arrested after a dramatic standoff with the York County law enforcement.
Even with the property abandoned, criminal activity has continued with the attempt to steal at least one vehicle from the property by three individuals last year. The motel and station became places where our local police officer, county sheriffs, and courts spent way too much time and taxpayer money.
What Next?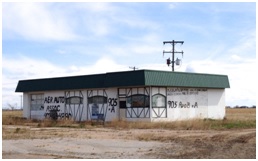 Just recently the Henderson Investors Group has addressed the issue of how to deal with the abandoned station. "We are looking at several options of how to either clean up the property or purchase it," said Jim Mestl, a member of the group. That would certainly be a step in the right direction. It is not a positive reflection on the community of Henderson and Exit #342 when this blighted and unsightly property is the first and last thing anyone traveling by sees.
But what about the now-for-sale Sun Motel? In hindsight it is easy to see that loss of local or reputable ownership in most cases is not good for maintaining quality services and jobs. The adage "Buyer Beware" should be reversed to "Seller Beware!" Thorough background checks of individuals who purchased these properties may have saved everyone a lot of trouble. It might be wise for York County to make some changes in their zoning laws so this does not happen again.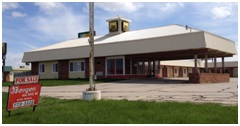 What was last called the Sun Motel is closed and officially for sale listed by Bergen Real Estate & Auctioneers for $199,000. There are varying opinions on the actual condition of the motel and whether it is financially feasible to restore it. With that high of a list price, it would be difficult to attract any investors to purchase the property and then spend money for demolition and clean-up if something new were to be built. But I shudder to think about even worse outcomes if the property is sold to someone who allows it to deteriorate any further!
Would it be feasible for the City of Henderson to annex the interchange? Some may laugh because of the high price the city would have to pay to provide utilities 2 1/2 miles out of town. It costs the state of Nebraska an average of $35,950 annually per prisoner. This figure doesn't even include what the county spends on jail time prior to incarceration. Several individuals have already been sentenced to serve multiple years in prison for their crimes at the interchange, so it might be cost effective for the state and county to help the city take control of the interchange.
York is a fine example of a city annexing all the way out to their interchange so they would have control over its development. If you look at many of the problems our interchange has encountered, they definitely could have been better contained if under the umbrella of the city ordinances and zoning rules instead of relying on the county.
Whoever we want to blame, the situation at Exit #342 is a reflection on Henderson. The name of our community has been stained, and the safety we always took for granted compromised by the demise of the interchange. In some ways, it's our front yard that has become way too messy to ignore much longer.
Comments
comments
Powered by Facebook Comments