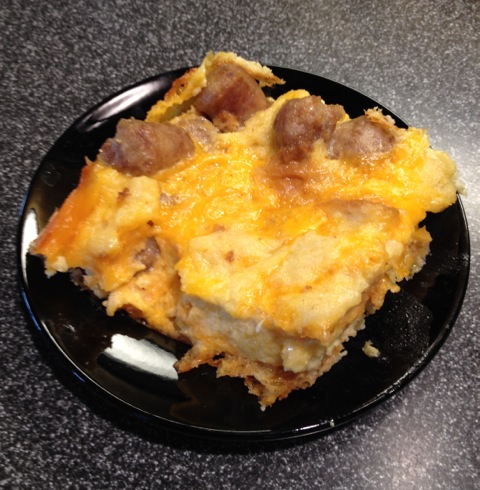 Recipe from Shannon Siebert
One of my family's favorite meals is a traditional breakfast casserole with eggs and sausage. After using the same recipe for several years, I decided to mix it up a bit and found a new recipe at www.allrecipes.com.  It was a definite improvement from my "tried and true" breakfast casserole, and my family agreed!  I recommend using the pork link sausage from our local Henderson Meat Processors.  If your eggs are a bit small, go ahead and increase the number of eggs to five and use a firmer white or wheat bread.
This is called "Christmas Breakfast Sausage Casserole" but don't let that stop you from using this as a great brunch anytime of the year!
Ingredients:
1 pound ground pork sausage (1 package of Henderson Meat Processors Link Sausage)
1 t mustard powder
1/2 t salt
4 eggs, beaten
2 cups milk (Soy or almond milk may be substituted)
6 slices white bread, toasted and cut into cubes
8 oz. mild cheddar cheese shredded
Directions:
Crumble sausage into a medium skillet or if using link sausage, cut into small pieces.  Cook over medium heat until evenly browned.  Drain.
In a medium bowl, mix together mustard powder, salt, eggs and milk.  Add the sausage, toasted bread cubes, and cheese and stir to coat evenly.  Pour into a greased 9 x 13 baking dish.  Cover and chill in refrigerator for 8 hours or overnight.
Preheat oven to 350 degrees.
Cover and bake for 45-60 minutes.  Uncover and reduce temperature to 325 degrees.  Bake for an additional 30 minutes or until set.  (Depending on your oven, I had better results baking the casserole for 45 minutes and an additional 20 minutes at lower temperature.)  I like to let the casserole set for a bit before serving.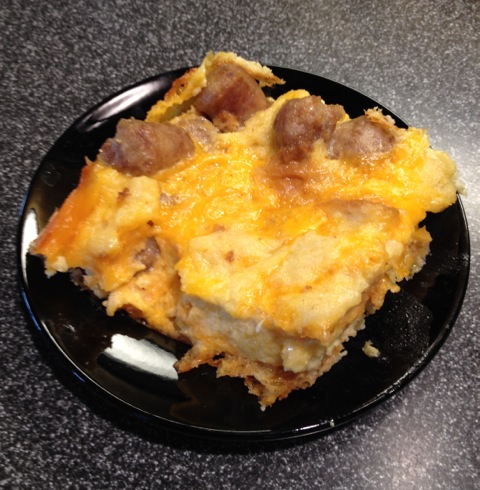 Comments
comments
Powered by Facebook Comments