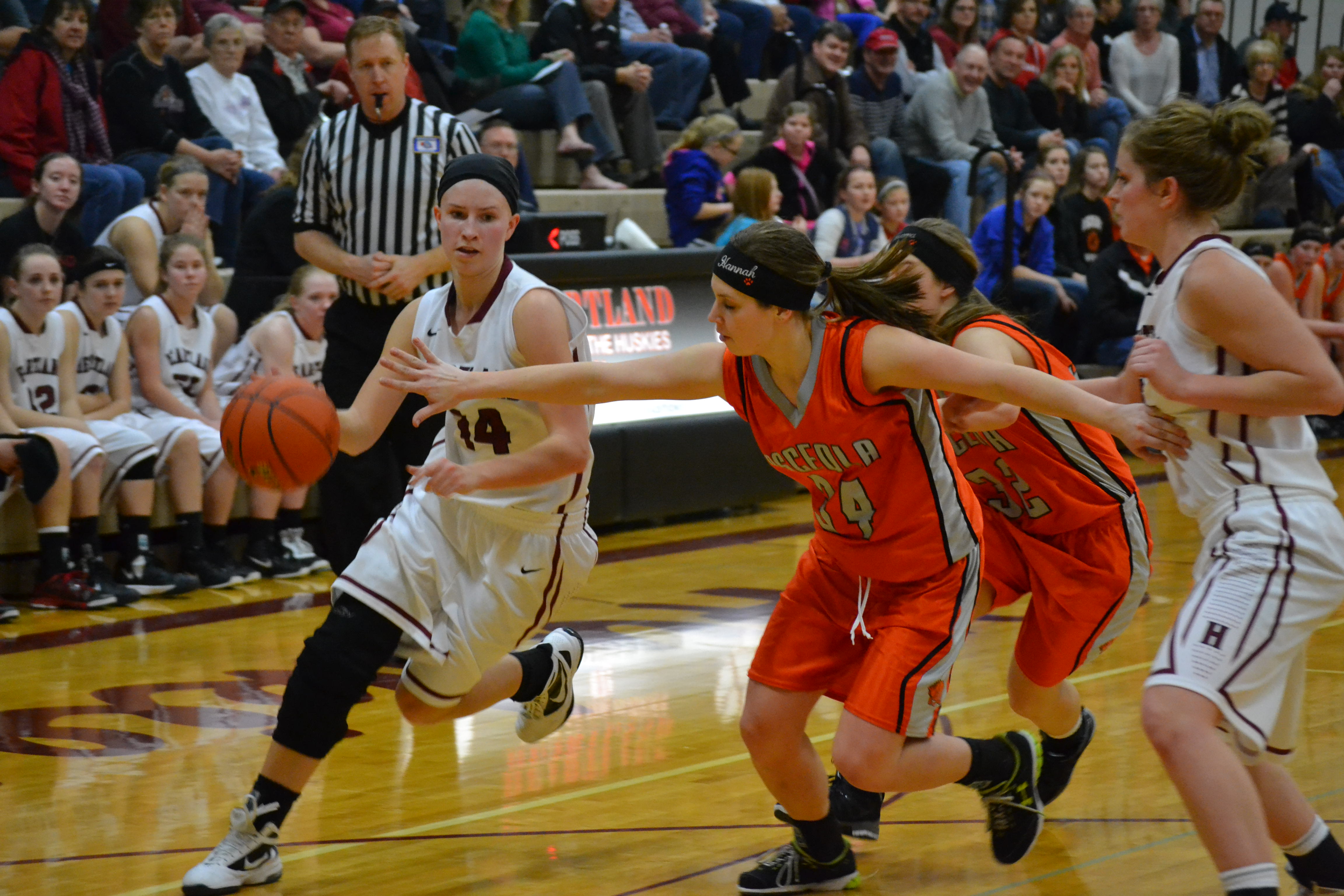 If you noticed three individuals sprint to center court last night after the games at the Heartland gym and start to do, what appeared to be, snow angels; no they weren't crazy.  That was just the Heartland senior girls saying their farewell to the gym.
Last night was the final home game for the girl's basketball team this year and last home game forever for Mikaelyn Dick, Sara Brune, Mattison Hiebner, Stephanie Stamp & Ashton Kroeker as Huskies.  They went out in fine fashion as they handley beat the Oceola Bulldogs in a 39-27 victory.
All four seniors played a solid game and the Heartland community has had the privilege of watching them play the last four years. Â The Huskies were led in scoring by Senior Ashton Kroeker with 12 points.
The girl's team will head into sub-districts with momentum.  The Lady Huskies have the #2 seed in the D1-2 Subdistrict and will play BDS (12-9) on Tuesday February 12th at 7:45pm at Fillmore Central.
The boy's team also played a well-rounded game beating the Bulldogs 69-46.  Big games came from Senior Brent Regier with 18 points and Cole Nickels adding 15 points.
---
2-7-13 Girls Final: Heartland 39 – Osceola 27
                                         1         2         3          4             Final
Heartland (13-7) Â  Â  Â  Â  Â 13 Â  Â  Â  12 Â  Â  Â  8 Â  Â  Â  Â  6 Â  Â  Â  Â  Â  39
Osceola                           3         11       9         4           27
Heartland (39)Â – M. Hiebner 3, M. Dick 8, A. Kroeker 12, B. Carr 6, S. Brune 10
Osceola (27)Â – B. Johnson 1, L. Gustafson 21, H. Walgren 5
[flickr-gallery mode="photoset" photoset="72157632715162857″]
2-7-13 Boys Final: Heartland 69 – Osceola 46
                                         1         2         3          4             Final
Heartland (11-9) Â  Â  Â  Â  Â 16 Â  Â  Â  Â 15 Â  Â  Â  21 Â  Â  Â  Â  17 Â  Â  Â  Â  Â  Â 69
Osceola                           8         18        7           13            46
Heartland (69)Â – Â  A. Hostler 2, L. Ruybalid 6, J. Heinrichs 8, C. Nickels 15, C. Kroeker 7, C. Siebert 9, T. Spickelmeir 4, B. Regier 18
Osceola (46)Â – N. Hayes 12, T. Carlson 2, L. Ericson 4, C. Zelasney 7, E. Hays 7, T. Winslow 3, C. Ericson 11
Comments
comments
Powered by Facebook Comments