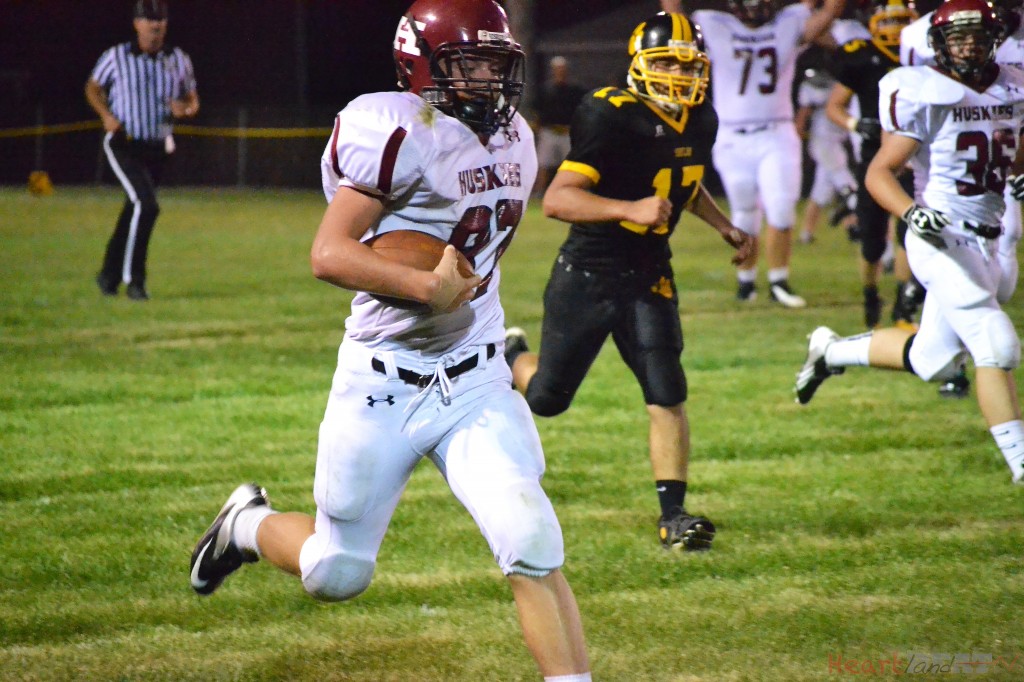 Despite a great effort, the Heartland Huskies dropped their first game of the season against the Shelby Huskies Friday night at Shelby.
Heartland had a salty first half. Â Tyler Brown scored the first touchdown of the game with a 12 yard run with 7:52 left in the 1st quarter to put Heartland up 6-0. Â The first half would go back and forth and was tied 14-14 with 3:02 left in the 2nd quarter. Â Shelby would take advantage of a long pass and a penalty on Heartland to, then, throw a 10 yard pass with no time remaining in the half to take a 14-22 lead and put Shelby on top to head into the third quarter.
Then, the second half, Heartland came back fighting. Â Quarterback, Jordan Heinrichs, would run in a 23 yard touchdown to cut the Shelby lead to two, 20-22. Â Heartland would strike again as Tyler Brown scored another touchdown this time with a 43 yard run to give Heartland a 28-22 lead with 7:56 remaining in the 3rd quarter. Â Shelby came back with a drive of their own and C. Speelman ran it in for a 3 yard touchdown to tie it up at 28-28.
Heading in to the 4th quarter, Shelby struck again as C. Speelman ran it in for a 50 yard touchdown, making the score 28-34. Â However, Heartland wouldn't go away. Senior, Lincoln Ruybalid and the Heartland Huskies would march down the field and take the lead with a 3 yard touchdown run, 36-34. Â A late turnover by Heartland proved to be the last straw and Shelby capitalized by taking a 36-42 lead with 3:54 remaining in the 4th quarter.
Heartland was hurt by Sophomore, Tyler Brown exiting the game early in the fourth quarter due to a concussion. He finished with a team high 8 carries 166 yards rushing, 2 touchdowns.
The Huskies took the loss, but show promise for the year. Â They will fight back this Friday, September 7th at 7:00 p.m. against Johnson-Brock at home.
If you can't make it to the game be sure to watch the game LIVE stream right here on HeartlandBeat.com.
---
Heartland vs Shelby August 31, 2012 Stats
                        1st      2nd     3rd     4th     Final
Heartland     14        0          14         8            36
Shelby            8        14          6          14           42
Offense:
Heartland – Rushing 362 – Passing 22
Rushing:
J. Heinrichs 19 carries, 105 yards
Tyler Brown 8 carries, 166 yards
Passing:
J. Heinrichs 1-5, 22 yards, 1 interception
Receiving:
C. Nickels 1 reception for 22 yards
Defense:
Heartland Leading Tacklers – J. Heinrichs 25, T. Spickelmeier 11, B. Regier 8
---
Shelby – Â Rushing 221 – Passing 105
Rushing:
N. Boruch 18 carries, 74 yards
C. Speelman 24 carries, 173 yards
Passing:
N. Schindel 6-11, 105 yards, 1 interception
Comments
comments
Powered by Facebook Comments