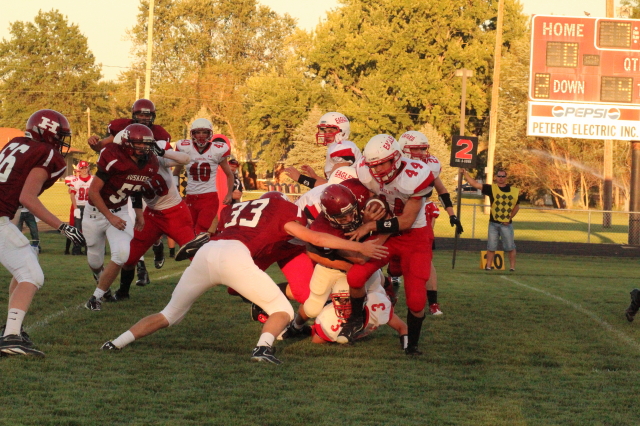 The Huskie home opener didn't go as planned for the football team, but some of the players were asked to do things they hadn't ever done before. Sophomore Colton Siebert who played center on the offensive line in week one stepped in at quarterback for the Huskies as Jordan Heinrichs is out with a torn ligament in his throwing hand. Also Tyler Brown the Huskies leading rusher was out with a broken finger and a concussion from the week one game against Shelby.  Despite those key injuries the Huskies had some positive plays to take away from the Friday's game and will look to get their first win of the season this Friday.
The Huskies took the loss on Friday night to the Johnson-Brock Eagles 12-52. Â The Huskies are now 0-2 on the season.
They will look to bounce back and get their first win of the year as they travel to take on Cedar Bluffs at 7pm on Friday September 14th. You can listen to our LIVE audio broadcast right here on HeartlandBeat.com.
---
Heartland vs Johnson-Brock September 7, 2012 Stats
                        1st      2nd     3rd     4th     Final
Heartland     0        0         6         6            12
Johnson-Brock           14        32          6          0           52
Offense:
Heartland – Rushing 146 – Passing 64
Rushing:
L. Ruybalid 15 carries, 80 yards
C. Siebert 10 carries, 29 yards
Passing:
C. Siebert 4-9, 64 yards
Receiving:
L. Ruybalid 3 catches, 50 yards
Defense:
Heartland Leading Tacklers – L. Ruybalid 9, C. Nickels 8, C. Siebert 8
---
Johnson-Brock – Â Rushing 353 – Passing 25
Rushing:
N. Grabel 22 carries, 197 yards
Comments
comments
Powered by Facebook Comments