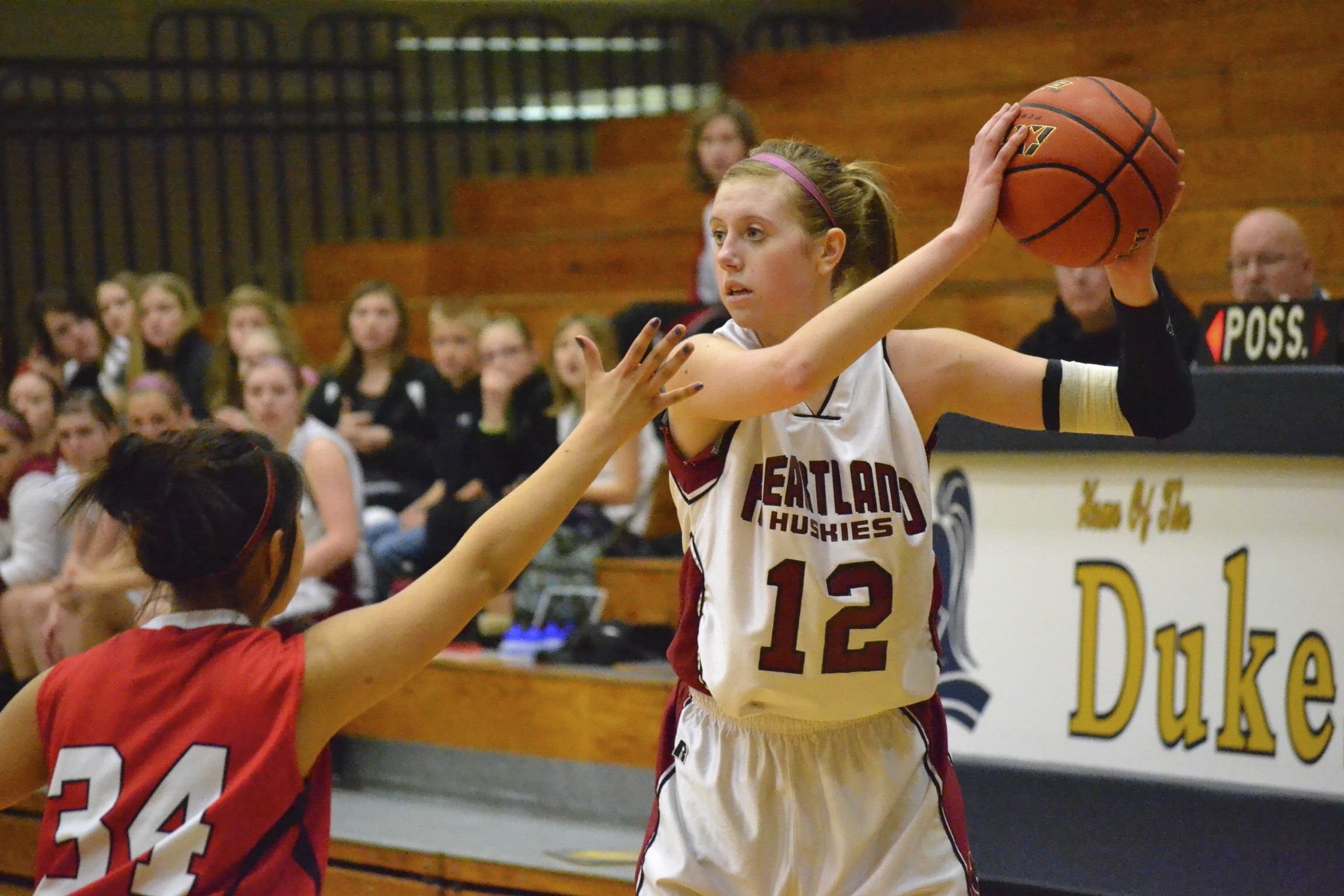 A slow start ended with a bang as the Huskies defeated Harvard Tuesday night 51-29 and advance to the sub-district final where they will face Bruning-Davenport-Shickley.
The first quarter started off slow for the Huskies as they were trying to find their groove while missing starting point guard, Ashton Kroeker, who is awaiting surgery on her knee. Â Once the Huskies found that groove, however, there was no looking back. Â The Huskies turned up the heat on Harvard and they did not stand a chance.
Heartland's press started showing signs of success as they caused numerous turnovers from it.  Madison Hiebner got hot from the elbows to hit a couple big shots.  Brune was working it down low hitting the boards, knocking down some nice shots and drawing the fouls to send her to the line.
It was a fun game to watch and the Huskies hope to take on BDS and get another win under their belt to take them into district finals. Â The leading scorer for the Huskies Tuesday was Junior, Sara Brune with 18 points.
Do not miss the game tomorrow night at York High School starting at 7:30 p.m. Â If you can not make the game, listen to it live audio on the Huskie Sports Network at HeartlandBeat.com. Â Go Huskies!
Girls Basketball: Heartland vs Harvard
Heartland Huskies (13-11) –  11    17    11    12  –  51
Harvard Cardinals (7-15)Â – Â 4 Â  Â 10 Â  Â 4 Â  Â 11 Â – Â 29
Huskie Scorers: S. Brune 18, M. Dick 10, J. Yoder 8, M. Hiebner 6, B. Carr 5, M. Janzen 2, B. van den Berg 2
Cardinal Scorers: A. Engle 13, M. Hachtal 10, S. Smith 4, K. Bell 2
Listen to the LIVE Audio Replay here
Comments
comments
Powered by Facebook Comments