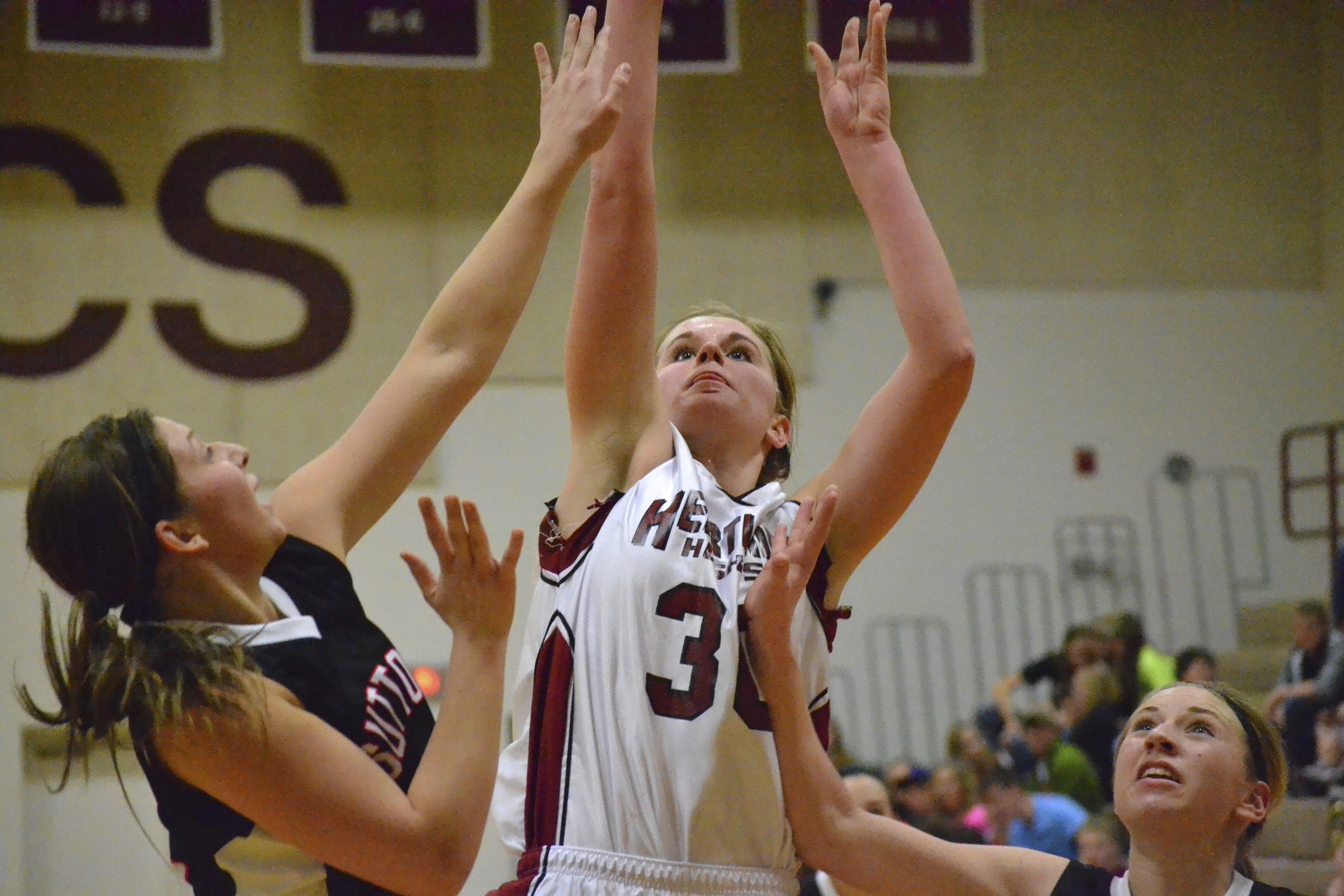 The Huskie Girls jumped on the Sutton Fillies early and never looked back as they cruised to a 44-28 win Saturday night.
The Huskies were coming off an adrenaline rush by defeating the Centennial Broncos on Friday night and kept building on that victory against the Fillies. Â They got off on the right foot with a big first quarter holding the Fillies to only six points. Â Sutton tried to contain the Huskies by putting a triangle and two defense into effect against the Huskies. Â They tried to keep Mikaelyn Dick and Sara Brune contained with man to man while not letting the rest of the team score down low. Â This did not work in their favor as Sara managed a team high 11 points while Mikaelyn added 10 points. Â Sophomore, Allison Braun also made herself known on the court offensively by putting up 10 points as well.
The team is showing signs of confidence and making strides to use each other and improve their game; both offensively and defensively. Â This is coming at a great time as the Huskies take on a big week with a home game this Tuesday against Nebraska Christian, then getting on the road Thursday and Friday to face Tri-County and Twin River.
The Huskie Boys' game was a rough one, start to finish.  Offensively, the team could not get much to go their way and defensively, Sutton took advantage of their size and depth to run the Huskies down.  The Huskie took the loss against Sutton 16-45.  Leading scorer for the Huskies was Freshman, Cody Kroeker with four points.
Again, the boys will play Tuesday, Thursday and Friday after the Girls' games.  You can watch Tuesday nights games LIVE on the Huskie Sports Network at HeartlandBeat.com as well as following our live blog for Thursday and Friday nights' away games.
---
Girls Basketball: Heartland vs Sutton
Heartland Huskies (9-5) –  14    9    7    14  –  44
Sutton Fillies (4-11)Â – Â 6 Â  Â 8 Â  Â 2 Â  Â 12 Â – Â 28
Huskies Scorers: S. Brune 11, M. Dick 10, A. Braun 10, A. Kroeker 5, B. van den Berg 4, M. Janzen 2, J. Yoder 2,
Fillies Scorers: M. Van Kirk 8, M. Calkins 8, S. Osterhaus 6, L. Mau 4, D. Lemkau 2
Huskies Team Statistics: Total FG: 16/35 46%; 3 Point: 2/6 33%; Free Throws: 10/18 56%
Watch the LIVE stream replay here
---
Boys Basketball: Heartland vs Sutton
Heartland Huskies (4-9) –  3    5    0    8  –  16
Sutton Mustangs (13-2)Â – Â 18 Â  Â 9 Â  Â 12 Â  Â 6 Â – Â 45
Huskies Scorers: C. Kroeker 4, T. Brown 3, C. Nickels 3, D. Driewer 3, J. Heinrichs 2, B. Regier 1
Mustangs Scorers: R. Wiebe 13, L. Spongberg 12, A. Rath 6, R. Stone 4, B. Yost 4, S. Griess 3, C. Wiseman 2, M. Carlson 1
Huskie Team Statistics: Total FG: 5/24 21%; 3 Point: 3/12 25%; Free Throws: 3/4 75%
Watch the LIVE stream replay here
---
Comments
comments
Powered by Facebook Comments