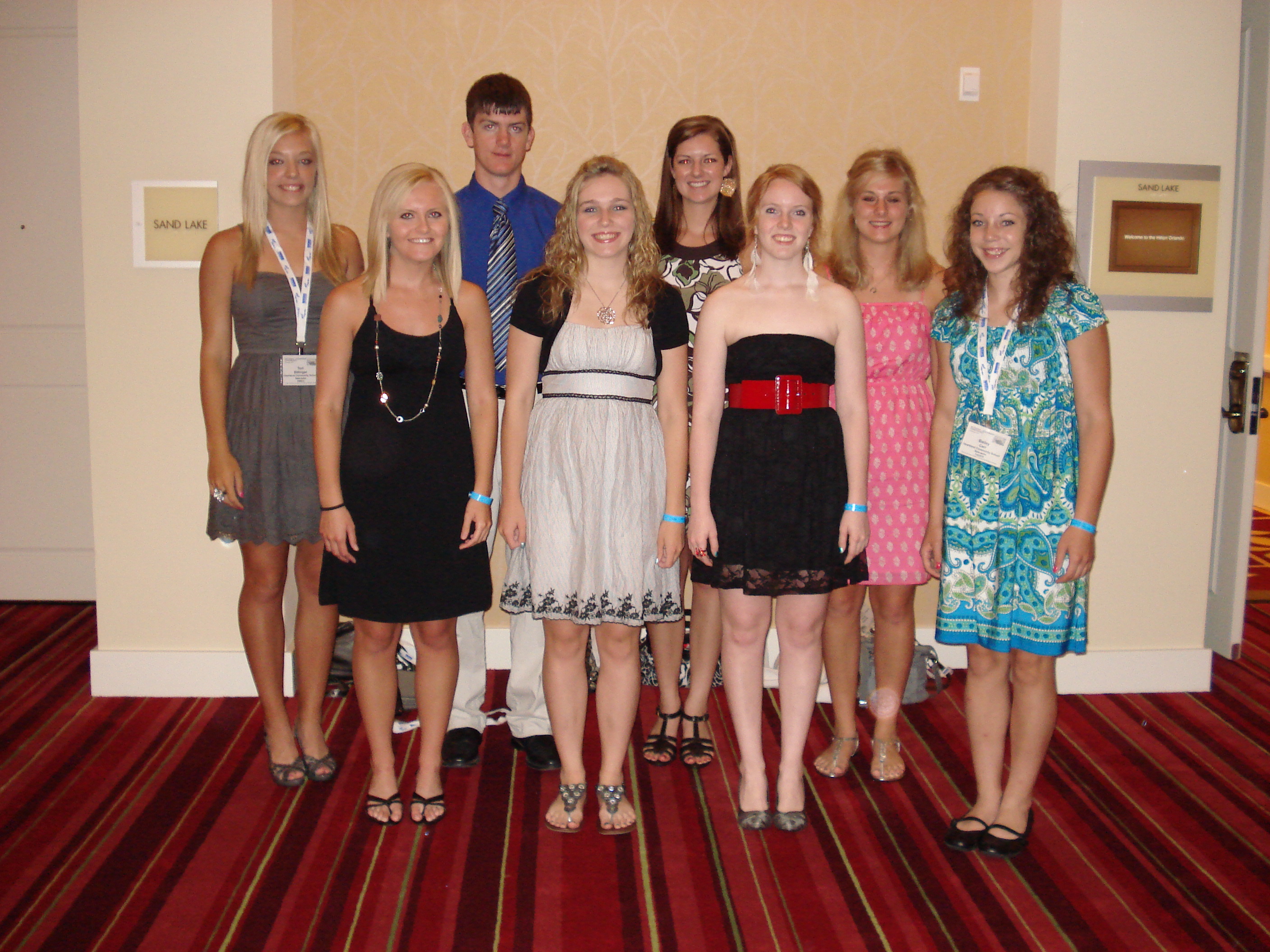 Orlando, Florida, is home to some of the nation's greatest theme parks—a place well-suited for over 8,000 future business leaders to Break Barriers.
Future Business Leaders of America, the largest and oldest student business organization in the world, held their National Leadership Conference at the Orlando Convention Center from June 26 to July 2.  Tori Bittinger, Kimberly Goossen, Emily Huebert, Cody Brown, Sondra Buller, Ashley Quiring, Bailey Carr and Allison Braun along with adviser Kristy Most enjoyed the weeklong conference activities. The group stayed at the Hilton Orlando Hotel.
Ashely Quiring placed first in the nation in Accounting I. She received a cash award of $1,000.  This was Ashley's second appearance at a national conference. Last year she placed fifth in Word Processing I.
Bailey Carr placed fourth and Allison Braun placed tenth in the nation in Word Processing I.
These awards were part of a comprehensive competitive events program sponsored by FBLA-PBL. Individuals, state teams and local chapters were encouraged to compete in any of the nearly 60 difference events representing a wide range of activities and the business and leadership development focus of FBLA-PBL. The winners of these highly competitive and prestigious awards were selected from among FBLA-PBL's membership of over 250,000 students and advisers and represent some of the best and brightest of today's youth.
Also competing at Nationals was Tori Bittinger, Kimberly Goossen and Emily Huebert in Community Service Project, Tori Bittinger and Kimberly Goossen in Desktop Publishing, Cody Brown in Business Calculations and Sondra Buller in Accounting II.  The state of Nebraska won 24 top ten awards.
The group enjoyed the following activities during the week: Disney World's Magic Kingdom, Epcot, Hollywood Studios and Animal Kingdom; Universal Studios Orlando and Islands of Adventure; and Wet 'n Wild Water Park.
Contributed by Kristy Most – FBLA Sponsor
Comments
comments
Powered by Facebook Comments