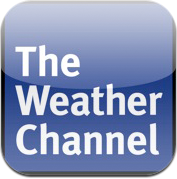 In case you did not know, or have not been informed, it is really, really hot outside.  July has been a real scorcher with extreme temperatures and extreme humidity hitting Henderson hard.  Whether you live in town or near town, weather is what is talked about. When you see a friend on Main Street, you talk about the weather; when you talk to relatives, you let them know your take on the weather we're having here. Only in Nebraska can we be in an excessive heat warning one day and thunderstorm warnings the next day; or maybe even the same day.  So my question to you is: How do you stay on top of the extreme weather patterns we are having?
Many of us are always relying on our mobile phones to give us that information or maybe even an iPad. Â For me, I rely on The Weather Channel app for Android, iPhone, iPod Touch, or iPad as my source for weather updates. Â Sure you could go to their website but the app allows you to get your local weather so much quicker. Â Once you put in your location, it is saved and you do not have to enter it in each time you open the app, which is nice.
The Weather Channel app provides several variations of weather updates such as: weather "right now", hourly, 36 hour, and a 10 day forecast.  It also provides a radar map, severe alerts, video, what's on TV and a few other options.  The app also allows you to share the current weather on Facebook or text/email it to a friend.
This app not only allows you to view the local weather at the touch of a button, it also allows you to bookmark several locations.  This way, you can see how your weather compares to your family and friends' weather where they live.  And how about this; going on vacation and just praying for sunny skies when you arrive?  Now, you can constantly keep yourself updated on your vacations spot's 10 day weather forecast from your mobile device.  Cool huh?
What app do you use to track the weather? Comment below and let us know.
Download The Weather Channel for Android
Download The Weather Channel for iPhone
Download The Weather Channel for iPad
Screenshots:

Comments
comments
Powered by Facebook Comments