We have all heard the phrase or something similar.  "There's an app for that," "I got that app," "Have you seen the new app?"  This is just the way the world works now.  Apps, or applications are for your electronic devices, such as the iPhone, iTouch, Droid, Blackberry, etc allow you to do numerous things on your device with the touch of a button.  This has become the way of life. Knowing this full well, HeartlandBeat.com is excited to pick an app each week that is found interesting, useful or just plain fun and discuss it.  Your comments are very much welcomed on these and if you have an app you would like to review/discuss, please send your useful information to news@heartlandbeat.com.  Yes, you have to email, sorry we don't "have an App for that!"
This week's App: GroupMe (Group Messaging that is quick and easy).

Have you ever wanted to text a group of friends but do not want to go through the hassle of finding each of their numbers every single time to send them a group text message? Â Maybe your phone is not able to send a group text message. Â Well now you can. Â It is called the GroupMe App. Â GroupMe is a free group messaging app that takes communicating with your group to the next level.
I have been using GroupMe for several months now and have used it for various reasons.  The latest was to let a group of guys know about a pickup basketball game that was happening one night.  I sent out the message to the entire bunch simultaneously and instantly, they all responded if they could come or not.  If I had wanted to, I could have also started a conference call through GroupMe which would have called all of their phones instantly.
GroupMe has a few other cool features that are useful as well. Â If you create a group for your family you can use it to share your location and share pictures. Â It is basically your own private chat room that works on your phone.
You can also use GroupMe on your phone a few different ways.  First, you can download GroupMe's app on your iPhone, Android, or Blackberry. The best part is that if you do not have a smartphone, it still works.  GroupMe works on any phone that texts.
If you are using the GroupMe smartphone app, you have the ability to choose how you would like to receive your messages.  You have the option to receive via Push or SMS (standard) text message.  Push means instead of it coming in as a text message, it will send the message using your data connection.  If you're like me (which I hope none of you are), I have a limited amount of texts per month on my plan.  So having the ability to communicate instantly and not use up my text messages makes GroupMe even more appealing for me to use.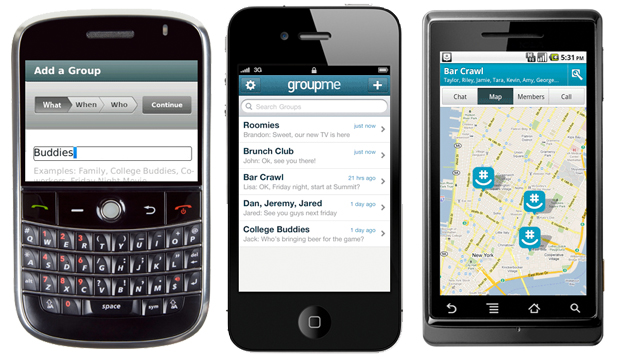 If you do not like GroupMe, there are several other group messaging apps available now, such as Beluga, GroupFiler, BrightKite, Fast Society, TextPlus, PingChat, EzTexting, Rabbly, ProTexting, or WeTxt. Â I can only speak for Beluga as the other that I have used. It is very similar to GroupMe.
Do you have a group that you could use this for? Let us know if you use or choose one of these apps and what you think.
Comments
comments
Powered by Facebook Comments