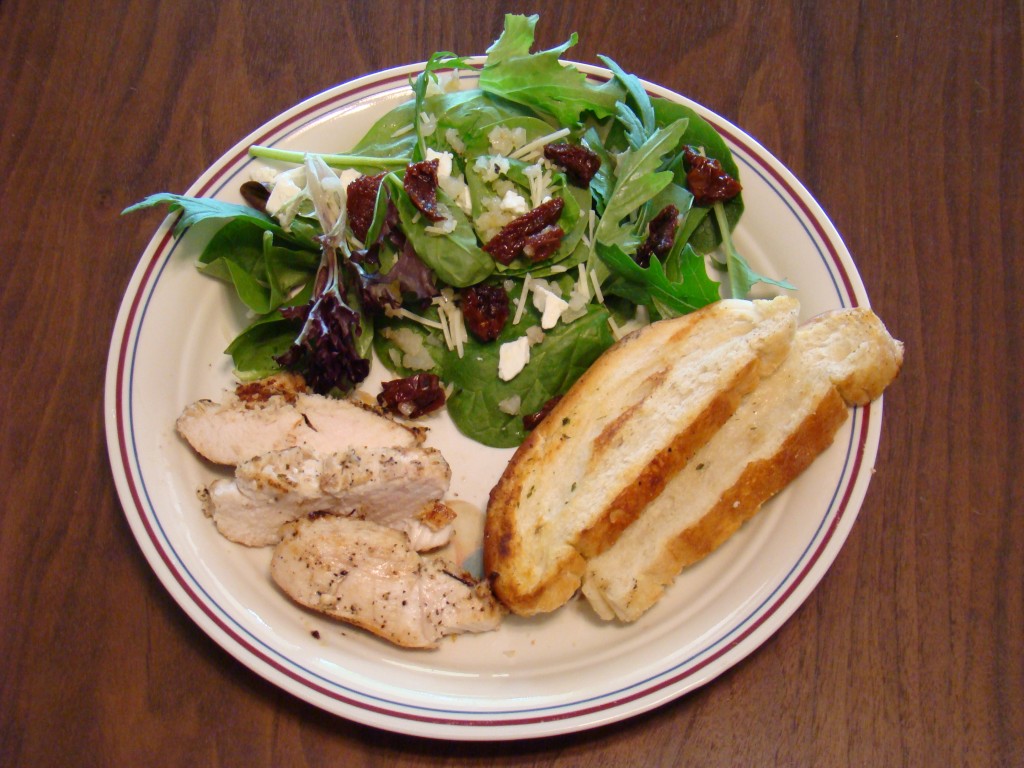 There is something enticing about a salad when it's hot outside. The cool combination of crunchy greens and crisp veggies make salads and summer the perfect pair. My first introduction to a chicken bruschetta salad occurred on a whim at
Granite City
in Omaha. This salad was part of a dinner for two deal that captivated us with the idea of piling our salad atop of our bread. When the salad arrived, we enjoyed it so much that I began to search for the recipe.  My version is actually inspired not only by Granite City, but also by the
Olive Garden
. The Italian dressing is a version of the dressing used in Olive Garden's signature salad that is served as a precursor to their entrees. I have found this dressing produces fabulous results in any recipe that calls for Italian dressing; making it is worth the extra effort to mix your own dressing.
This salad is an entree that is designed to be played with from creation to consumption. My kids line up to paint the oil on the bread and apply the seasonings. Then they scramble to scoop up every last crunchy piece of French bread. The salad is casual enough for the kids but pretty enough for company. So go ahead and pile this savory salad atop of the crunchy French bread and enjoy a taste of summer.
Grilled Chicken Bruschetta Salad with Italian Dressing
Combine the following ingredients in a salad shaker. Shake for 30 seconds to combine.
| | | |
| --- | --- | --- |
| 1/2 cup red wine vinegar | pinch of oregano | 1/3 cup vegetable oil or olive oil |
| 1/3 cup water | 1 tsp. garlic powder | 1/4 teaspoons dried parsley flakes |
| 1 1/4 tsp. salt | 1/4 cup light corn syrup | pinch crushed red pepper flakes |
| 1 tsp. lemon juice | | |
Reserve 1 C for the chicken marinade and chill the rest of the dressing.
| | | |
| --- | --- | --- |
| 2 boneless skinless chicken breasts | 1 loaf French bread, sliced | 1/4 C plus 2T Asiago and Parmesan Cheese |
| 8 sun dried tomatoes, quartered | Garlic Powder | 4 cups fresh spinach |
| 1/2 red onion, chopped | Olive Oil | 1/3 cup crumbled feta cheese |
Place the chicken breasts and 1 C Italian dressing in a Ziploc bag. Marinate in the refrigerator for at least 3 hours.
Prepare the onion and sun dried tomatoes, then fold the veggies into aluminum foil or place in a foil lined grill basket. Spread the bread slices individually on a cookie sheet and paint both sides with olive oil. Discard the marinade from the chicken and heat the grill.
Grill the chicken for 7 minutes on each side or until the juices run clear and the chicken is no longer pink in the middle. Grill the veggies until the onions are softened and the tomatoes are heated through. Set the chicken and veggies aside and allow to cool.
Grill the bread to your liking on one side (about 1 minute), turn the bread slices over, and sprinkle the bread with the garlic and Asiago and Parmesan cheese. Grill the bread until the cheese is melted and the bread is toasted to your liking.
Slice the chicken into serving size pieces. Place spinach, feta, remaining 2 T Asiago and Parmesan cheese, and grilled veggies in a large salad bowl. Toss with the remaining Italian dressing until well coated. Serve the salad with the seasoned bread and chicken.
Nora Ohrt
Comments
comments
Powered by Facebook Comments