The Heartland FFA chapter recently visited Lincoln for the annual State FFA Convention. Â Some highlights of State Convention were state contests, state FFA choir, leadership workshops, keynote speakers, general sessions and the State Degree Ceremony.
The Nebraska State FFA Degree is the highest honor the Nebraska FFA Association can bestow upon its members. Â Receiving the Nebraska State FFA Degree from the Heartland FFA Chapter were Seth Schaldecker, Brandon Friesen, Andrea Boardman, Brian Barr, Carlie Weisheit, and Tanner Steingard.
Additionally, seven FFA members were selected to sing in the State FFA Choir. Â Those members were: Miranda Driewer, Morgan Tracy, Ashton Kroeker, Brenan Erb and Daniel Quiring.
Heartland FFA Members also participated in the State Leadership Skills Events.
Receiving a Gold plaque was the Sophomore Junior Parliamentary Procedure Team. Â Team members were Daniel Quiring, Aaron Jensen, Ashton Kroeker, Mattison Hiebner, Emily Ott, Sam Boardman and Matthew Hiebner. Â Team alternate was Maelyn Huebert and Steph Stamp. Â Also participating in the State Leadership Skills Events was Andrea Boardman. Â Boardman received a gold medal in Job Interview.
Additionally, Boardman was selected as State Champion with her Agricultural Service Placement Proficiency Award. She was also selected as a State Star in Agricultural Placement Finalist.
Many other Heartland FFA Members participated in the State Career Development Events.
Below is a list of all members who participated and how they performed: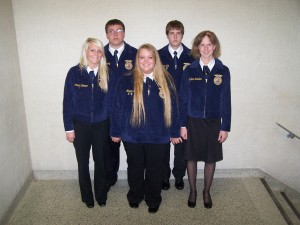 Agriscience
Leah Friesen – Red
Kelli Bergen – White
Megan Friesen
Brandon Boardman
Ag Sales
Michael Brune – Blue
Seth Schaldecker – Red
Brielle van den Berg
Miranda Janzen
Agronomy
Casey Goertzen – Red
Spencer Friesen
Brandon Friesen
Brent Regier
Meats
Tanner Steingard
Andrew Spader
Brenan Erb
Rick Siebert
Natural Resources
Brian Barr
Bradley Morton
Cort Regier
Trey Vlieger
Comments
comments
Powered by Facebook Comments